This is part 4/5 in the Buzinga crash course Mobile App Marketing: How To Get 100,000 Downloads In A Month.
Part 1: User Personas: Marketing To A Mobile Audience
Part 2: 9 Steps To Building A Must Have Pre-Launch App Landing Page
Part 3: How To Generate Buzz Before Launch
Part 5: How To Engage And Retain Your Current And Future Users
A few weeks ago, I wrote an article addressing the number 1 most reported external challenge for Australian startups – acquiring funding.
Now, I want to address the number 1 most reported internal challenge for Australian startups – customer acquisition.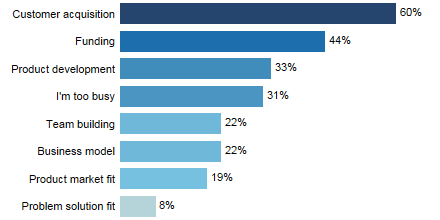 Source: Startup Muster 2014 Report
This data suggests that most startups lack sales skills or a knowledge of how the 'marketing funnel' works.
The funnel below is a high-level example of how developers can push customers through a process structure that drives growth and improves the lifetime value of a customer.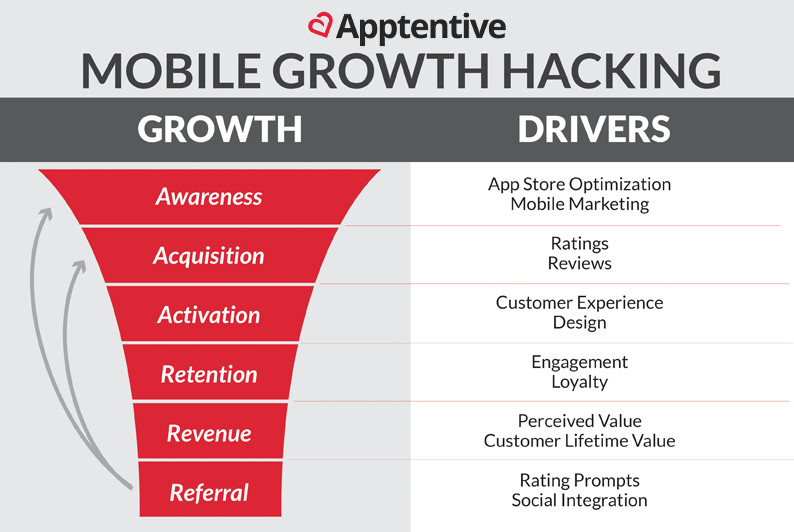 Source: Apptentive
Getting your app the traction it needs to see a noticeable increase in downloads, retention, and all those other sexy app metrics is a hard slog.
It's an age old paradox: Apps attract users through good ratings, word of mouth and recommendations from existing users, but how can you attract those initial users who will get the ball rolling?
You need to nurture your leads with the right communication messages, in the right channels, at the right time.
Before I dive into 5 highly effective mobile app customer acquisition strategies, here are some points you need to address before you start:
Know where your users hang out
Before implementing anything, you need to assess what channels will get you the most bang for your buck.
Do this by asking your potential customers where they hang out online, and build relationships in those places. Then, once you've got some traction, you can branch out to other tactics.
For example, if you have a document scanning app you'll probably find that your promotion is best received on LinkedIn over Instagram because your user is a professional.
There are literally hundreds of distribution channels for customer acquisition. You want to pick channels that will keep your customer acquisition costs as low as possible – maximum reach for minimum spend.
How much should it cost?
Customer acquisition cost (CAC), also known as cost per install (CPI) refers to how much it costs to acquire one unique customer.
It is, of course, a hugely varying metric.
Depending on your acquisition strategies, your CPI will be the total cost of all your sales and marketing activities divided by the number of installs (or customers) you got, for a given period of time.
For example, if you spent $5000 on mobile ad networks and acquired 500 new users, your CPI would be $10.
Obviously, when you first deploy your marketing strategies your CPI will be high, and ideally decrease over time.
Fiksu regularly updates its client data to reveal key mobile app advertising insights. In June 2015, the average CPI for iOS was $1.15, and for Android it was $2.33.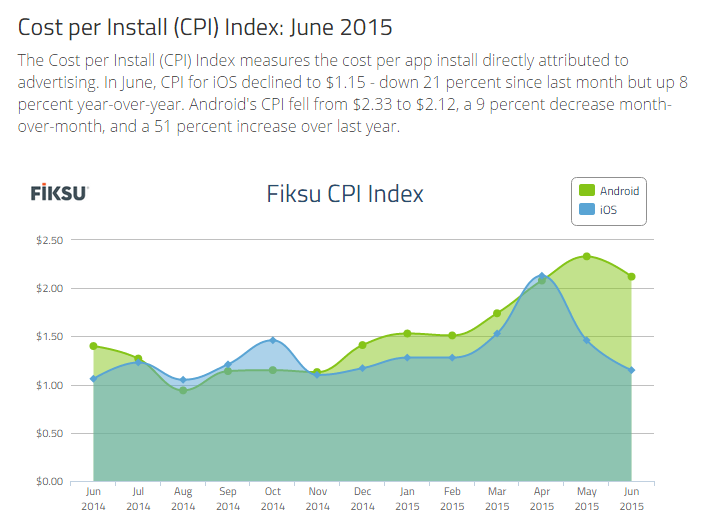 Source: Fiksu
Fiksu's Wightman says that most app developers have to pay to obtain customers at some point.
App companies typically rely on PR efforts and social networking to generate interest when they first launch.
However, in the months after an app's initial launch, most developers see a steep decline in the number of customers downloading their apps.
"It's not a solution they can really build a business on," Wightman says of PR and social networking promotional efforts. "It's not scalable and reliable."
Knowing this, here are the best customer acquisition strategies (ie: the lowest hanging fruit) for getting your first app users.
Many are organic (virtually free) methods to generate interest pre-launch, although you should continue these strategies throughout your app's lifetime.
Others are paid methods to drive downloads in the months after launch, when most apps see a steep drop in growth.
1. Email Marketing

Source: Mailchimp
The internet was made for lead generation and nurturing.
All your online marketing efforts are worthless if they're not generating leads.
And those leads are worthless if they're not becoming app users.
For apps, leads are normally found in the form of email addresses and names. By collecting these, you know that this person already has an interest in your product or content.
The next step is figuring out how you can nurture them from an email address to an actual app user.
Put together an email marketing program that specifies how you will push those first-level leads down the 'funnel' to actually download your app.
Your program should be modified to suit your target audience, industry and channels available to you.
Here's an outline most apps can modify to their audience:
1. Set up a website or landing page to collect email addresses from people who have indicated they want to be kept up to date on your app's progress and launch
2. At least 3 months before launch, start marketing to drive people to your app website or a landing page.
3. Send regular, added-value emails. These could be in the form of a blog article, 'behind the scenes' photos, exclusive offers, or anything else you think your audience would be interested in.
The point of sending emails is to keep your app top of mind in the months or weeks before launch.
Your leads will be familiar with seeing your name in their inbox – They'll have developed a personal relationship with you, positive brand associations, and all that other 'feel good' branding stuff.
You can also run referral programs in this email. Offer your existing database an incentive (like in-app rewards) to spread word about your product. This action could be in the form of a share on social media or getting a friend to subscribe (ie: collecting a new email for more leads).
By the time your app is launched they'll be compelled to get first access to the thing they've been learning about for weeks!
4. Seal the deal with an exclusive offer, discount, or access to the beta release just before launch.
More on this in the next section.
2. Referral/Incentive marketing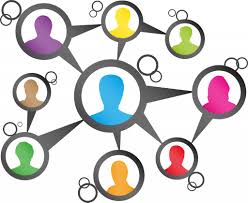 Source: Influitive
40% of people report that the main reason they give away their emails or follow an app on social media is to receive special offers and discounts.
Particularly if your app integrates in-app purchasing, this is a powerful way to both acquire new users and increase loyalty.
It's also pretty much essential if your app relies on the 'network effect'. This describes apps that rely on a large database of users to make the service worthwhile, because users must interact with each other (For example, social networking apps like Tinder, and payment apps like Venmo).
Network-effect apps often incentivise a localised group of people to use the app, who will encourage their networks to sign up so they can get more value from it.
From this, word of mouth can spread across user's networks quite rapidly.
This localised group is often a university college campus (as was the case for Facebook and Tinder's acquisition strategy).
See also: How Tinder Turned Itself Into An Explosive Growth Machine.
The key with incentive marketing is thorough testing. What is the minimum value you can offer that will appeal to the largest audience?
Australian online wine retailer Vinomofo tested many different levels of incentives to acquire its first customers.
They started with incentives loaded towards the invitee, with nothing for the recipient, and then the other way around. Ultimately they settled on giving equal credit to both parties: $25 credit to the referrer and the new customer.
Uber uses this same referral scheme – users are offered a 'free' ride (to the value of $25) when they get a friend to download the app, who is also gifted with their own free ride.
This classic acquisition strategy essentially 'de-risks' the activity of using the app for the first time. It also lets users do the hard advertising work for you, and they're a much more credible advertising source aswell.
Giving potential customers something for free might sound unappealing for a cash-strapped startup, but it results in more loyal users and positive word of mouth effects.
You gotta spend money to make money!
3. Product-driven content
Source: Wix
Giving potential users free, valuable content is the most organic, low-cost customer acquisition strategy alive.
This 'content' can mean blogs, social media posts, educational or entertaining videos, newsletters, and more. Content can be as creative as you want it to be!
That's why when Buzinga was first starting out, I blogged every day, and still blog now! It's a great way to give your current and future customers free resources that are related to your product.
Big name software companies like Hubspot and SEOMoz attribute their blog as their number 1 customer acquisition strategy.
"The blog specifically has been a great success because it attracts potential customers and influencers of potential customers through many channels (email, RSS, SEO, social, press, referral links, etc) and builds recognition, likability, and trust that then transfer over to our software offering." – Rand Fishkin, CEO of SEOMoz
Content marketing is also a feel-good marketing practice, because it's totally permission based.
You're pulling in leads with stuff they like, as opposed to pushing out spam and self-promotional advertising that interrupts their lives.
Read How To Get Explosive Growth And Downloads Using A Blog to figure out content can work for you.
By the way, don't ever think that there isn't any content you can write that would suit your app.
For example, productivity apps like Trello and Evernote both host widely read blogs with articles on how to increase your daily productivity, tips on how to use different product features, case studies and interviews with high-profile users.
Evernote supplements this with channel-specific content – video performs extremely well on Facebook, so they run a video series on their Facebook page featuring their sponsors, interviews and case studies with key influencers who use their app.
They then promote this via their email databases and social media accounts, which get shared and bring in more leads.
Quality over quantity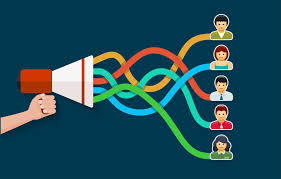 Source: Chatmashsocial
Content marketing is getting more and more popular every day, so the emphasis is on creating content that provides high quality resources, not just throwing it out there for the hell of it.
The only requirements are that you should only create content that is related to your app's offering, and you must limit (if not eliminate) any self-promotion.
There is nothing worse than self-promoting content under the guise of something objective. Readers can instantly tell when you're trying to sell yourself, and it betrays their trust.
Check out how these 4 apps use social media as part of their customer acquisition strategies: 4 Apps Killing It On Social Media
After you've created the content, you can distribute it via your own networks (your email database and social accounts) as well as email people who you think would find it relevant to share to their readerships.
Understanding which content performs best on different channels is also vital to improving its ROI.
For example, visual content and rich media (like images, GIFs and video) have much higher conversion rates on social media.
On social media, brands should follow the 80/20 rule: 20% of your posts should be self-promotional (your own content or any discounts, etc) and 80% should be devoted to sharing other people's content, fan interaction and asking questions.
For more information on how to use social media for mobile app growth, make sure you check out these resources:
How To Use Facebook To Increase Downloads
How To Use Twitter To Increase Downloads
4. Paid online advertising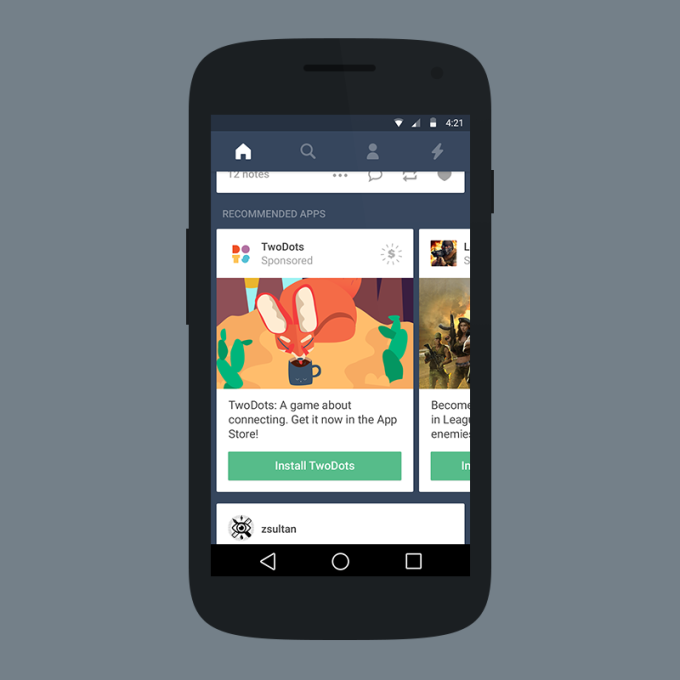 Source: Techcrunch
The biggest advantage of paid advertising is you can easily see where your money is going.
If you spend $20, you know exactly how many conversions (clicks, downloads, leads, whatever) it got you, and you can calculate your cost per customer acquisition to adjust spending accordingly.
Online advertising comes in three main forms, ordered from least to most sophisticated (and that's reflected in the cost too):
CPM (cost per thousand impressions) – You pay the advertiser a certain amount per 1 thousand single times your ad was viewed
CPC (cost per click) – You pay the advertiser a certain amount per click on your ad. Google does this to target searchers who already exhibit intent to click (through demographics and previous browsing behaviour). They show sponsored ads like yours, and searchers end up clicking on one of those ads.
CPA (cost per acquisition) – You decide on a customer acquisition mechanism, like app installs that came from someone clicking on your ad, or a registration to your service, and pay the advertiser for that acquisition.
The first step of launching any ad campaign is 'Spray N Pray', so called because you're essentially throwing your app out into a number of different ad networks and tracking which ones worked the best.
Make sure you're advertising on mobile networks only – you're wasting your money advertising on desktop browsers because PC users are not going to be able to directly download your app.
From Spray N Pray check which traffic sources gave you the most acquisitions. You'll need to use software that can track these analytics – check out the top 10 app analytics tools to help you make your decision.
Some great user acquisition networks to tap into are:
Mobile ad networks like Adroll, AdMob.
Incentive based download programs like Tapjoy, App-o-day.
Real-time bidding platforms like Mopub.
Both Facebook and Twitter let you easily create your own app install ads and target them based on device, audience demographics and interests.
Check out The Anatomy Of A Perfect App Install Ad for how to write a high-converting ad for social media.
Create your social ads for targeted audiences who you know from feedback and user testing have the highest customer lifetime value.
5. Publicity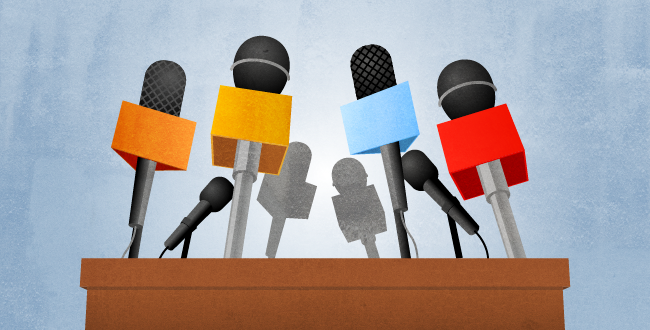 Source: Buzinga
Ever wondered how some apps seemed to blow up overnight, coming out of nowhere? Yo, Angry Birds, Candy Crush…
The answer is just old fashion PR – press releases, app reviews or being featured on a popular publication or blog.
Press can be difficult to get for a totally new app, and without hiring a professional media relations company you're going to spend quite a few man hours reaching out to people via email.
But it's easily the fastest and most effective way to get a flood of downloads.
It only takes one good act of press to get the ball rolling, and gives you social proof you can leverage to get other people to write about your app.
The reason publicity is so powerful is its inherent virality.
It has the potential to reach audiences you wouldn't otherwise have access to, its easily shared online, it has 3rd party credibility and word of mouth effects, and (a bonus) it gets you backlinks to your website/app store page, which boosts your search ranking on Google and in the App Store.
Check out How To Get Key Influencers To Rave About Your App for some best app publicity practices.
Some top points:
Target smaller, localized and niche interest blogs for a better chance of being written up
Focus your outreach efforts on what featuring your app can do for them, not for you.
Include links to all your landing pages, contact details and social profiles
Leverage your contacts and ask for an introduction/endorsement
Don't forget about social media! Reach out to Facebook admins and any social profiles that may be relevant
BONUS: ASO
I wouldn't really call app store optimisation a customer acquisition strategy, but it certainly makes your app more easily discovered, and is more important than ever given the increasing levels of competition in the app store.
According to Apptentive, 63% of apps are discovered via general browsing or search within the app store.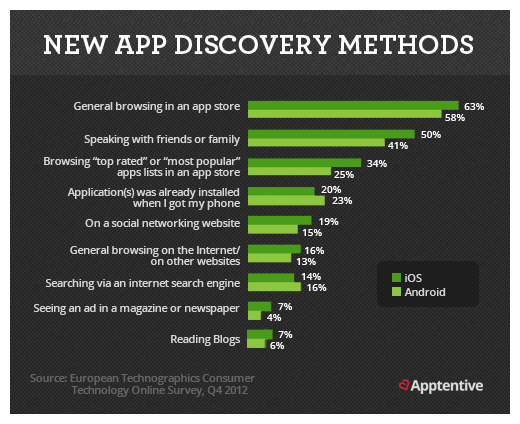 Source: Apptentive
How do you make sure these searchers can easily find and download your app?
Optimising your app's name, description, keywords and screenshots makes Apple and Google rank your app higher on the app store, thus increasing your app's visibility.
This ensures that you're not letting valuable leads slip through the cracks because they couldn't find you on the app store, or they were searching with intent but ended up picking a competitor because they were more prominently featured for the same keyword.
Check out these articles for a beginner's guide to optimizing your app for discovery:
How To Rank Number 1 On The App Store
Getting Discovered: How To Hack App Store Search
These strategies are just the lowest hanging fruit for app startups.
Mix and match both organic and paid methods to push customers down the funnel to download your app, and continue to nurture them so you improve their lifetime value.
I hope these strategies have given you some ideas for how you can tailor them to suit your app audience!
Continue the crash course…
Go back to part 1: User Personas: Marketing To A Mobile Audience
Go back to part 2: 9 Steps To Building A Must Have Pre-Launch App Landing Page
Go back to part 3: How To Generate Buzz Before Launch
Go to part 5: How To Engage And Retain Your Current And Future Users
The following two tabs change content below.
Logan Merrick is the co-founder and Director of Buzinga, as well as one of Australia's most recognised entrepreneurs, keynote speakers, investors and mentors. His writing on startups, technology and mobile marketing has been featured in The Australian, Business Insider, Startup Smart, Smart Company, and more.
Latest posts by Logan Merrick (see all)
https://www.buzinga.com.au/wp-content/uploads/2015/08/Customer-acquisition.png
359
900
Logan Merrick
https://www.buzinga.com.au/wp-content/uploads/2017/06/Buzinga-Logo-Old-Small.png
Logan Merrick
2015-08-25 02:00:27
2017-01-21 16:29:49
Customer Acquisition: How To Reel In Your First 5,000 App Users