App store intelligence firm App Annie recently published new market intelligence forecasting enormous monetary opportunity for app publishers over the next 4 years.
The app economy is growing at a fantastic rate, with businesses across every industry now releasing apps, from media companies to banks to government services.
App Annie's data has revealed key trends that continue to shape the app economy. At Buzinga, we're encouraged to see user interface design and user experience forecast to be important competitive drivers.
In this blog I'll break down other value-chunks from the report and provide insight into how businesses can start actioning these findings today.
App Store Revenue Expected To Double to $189 billion by 2020.
Combined worldwide in-app advertising and net-to-publisher app store revenue is forecast to grow by 2.7X, from $70 billion in 2015 to $189 billion in 2020.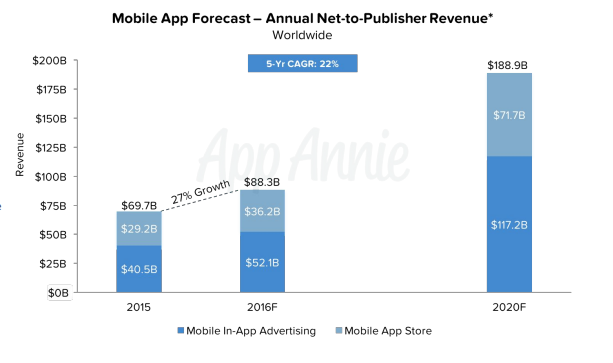 This is being driven by a large increase in time spent in apps (average app usage has doubled over the past 2 years alone!) as well as a doubling in the number of smart devices in use globally.
To plan for these drivers, businesses must focus on creating highly engaging 'mobile moments' within applications.
Exceptional user experience is no longer an app differentiator – Consumer surveys shows it's a minimum expectation by all app users.
See also: New Forrester Data: How To Make 5X Higher Returns On Mobile Applications
To capitalise on the amount of time users will be spending in apps over the next 2 years, businesses will need to be releasing regular app updates and fresh content that keeps users engaged.
Some ways to do this:
Integrate AI technology into mobile apps to increase personalisation and learn user's behaviour patterns.
Use latest UX design practices to create memorable touch points with customers.
Engineer viral loops within your app to facilitate sharing and organically grow your user base.
2. Usage is the new currency
Increasingly, we're seeing that the biggest indicator of app revenue growth is usage – specifically, time spent in apps.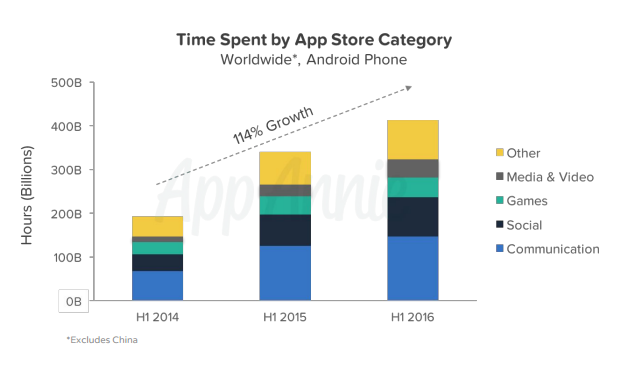 App performance metrics like downloads and usage are very much correlated with revenue, regardless of your monetisation model.
Uber clearly knows this as well. Their recently leaked financial statements show the app is burning through cash in order to pump its userbase with new customers. This is an extreme example, but it illustrates just how much of a priority user growth is for the long term profitability of a company.
See also: Launch Hack: How To Get 100,000 Downloads In A Month
Australia and the US are now considered mature app markets, which is why they are now being characterized by expanding app usage and revenue growth.
Emerging markets like India are still experiencing the most growth in app downloads.
Apps are becoming the go-to resource for communication, entertainment, shopping, productivity and more. Communication and Social apps like Facebook and WhatsApp Messenger are attracting the largest share of time spent.
3. Apple and Google are encouraging growth in subscription-based models
Businesses use a variety of monetisation models depending on app function and target users. Many use a mix of models to cater to different target users and behaviour patterns.
See also: The Ultimate Guide To App Monetisation Models
It's important to note that a business should be open to evolving monetisation models. Just like any other aspect of your app, they're not set in stone.
Subscriptions have been identified as an increasingly effective type of in-app purchase, currently accounting for 15% of all app store revenue.
Subscriptions have impacted a range of industries, including fitness apps (Apptiv), music and video streaming (HBO NOW, Tidal) and dating (Tinder).
The change to look out for:
In June 2016, both Apple and Google's app stores made changes that indicate that subscription growth will continue to increase.
Both app stores have increased the share of revenue that businesses receive for subscriptions. Apple also opened up subscriptions to all app categories, including games.
As subscriptions require a large up-front commitment from the first-time user,  its worth considering a free or discounted trial to build a user base first.
4. In-app advertising and freemium will continue to dominate monetisation models through 2020
In-app advertising  and freemium have always been the 2 most popular monetisation models for non-game apps.
Over the forecast period, they're projected to account for more than 90% combined share of total app revenue.
These models appeal to a broad user base as they don't require up-front fees, and they also create ongoing revenue streams for their publishers.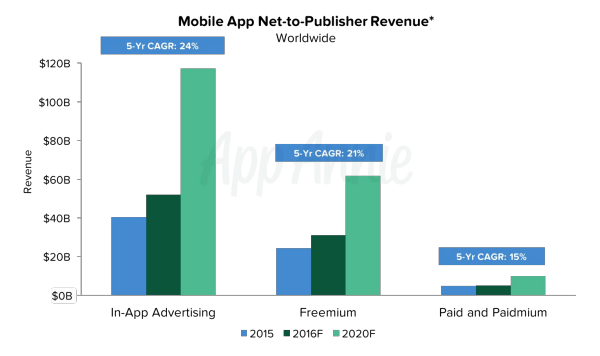 In-app advertising
In-app advertising has shed its reputation as annoying and unsophisticated. Smart advertising is targeted, relevant and useful.
Methods of using machine learning to predict behaviours and purchases only make advertising more relevant to the end user.
From 2015 to 2020, in-app advertising is expected to significantly increase its lead, with its share of app store net revenue growing from 58% to 62%.
Freemium
Freemium models are increasingly popular as they allow users to 'try before they buy', while giving developers a chance to hook in users and build trust and engagement before asking for the sale.
There are several freemium techniques app developers can choose from, to be carefully evaluated considering app features and user base needs.
Models include:
Usage – Free app offers limited usage, storage space or bandwidth until payment is made (Dropbox).
Free trial – Free app offers full functionality but only for a limited amount of time before payment is made (The Wall Street Journal).
Functionality – Pay for extra content, services or capabilities (Skype, Evernote).
User Experience – Free app contains ads. Payment is required to remove ads (Spotify).
Many apps use a combination of several freemium techniques.
Read the full App Annie report here for more insights!
The following two tabs change content below.
Logan Merrick is the co-founder and Director of Buzinga, as well as one of Australia's most recognised entrepreneurs, keynote speakers, investors and mentors. His writing on startups, technology and mobile marketing has been featured in The Australian, Business Insider, Startup Smart, Smart Company, and more.
Latest posts by Logan Merrick (see all)
https://www.buzinga.com.au/wp-content/uploads/2016/11/App-Monetisation-Trends-Drivers2015-2020.png
359
900
Logan Merrick
https://www.buzinga.com.au/wp-content/uploads/2017/06/Buzinga-Logo-Old-Small.png
Logan Merrick
2016-11-25 11:27:50
2016-11-25 12:39:09
Latest Data: App Monetisation Trends And Drivers 2015-2020