Most app developers fail. It's a sad truth.
Why do they fail? Because they can't get enough people to download their app.
The app fizzles out and the app developer moves on to the next big idea only to make the same mistakes again.
Let's tackle this problem. How can we get more downloads?
In this blog marketing strategy I'm going to show you how you can use a blog to attract thousands of people and hundreds of downloads per day.
But first, let's look at the facts:
77% of app developers will launch their app and hope for the best, yielding a 1:10,000 success-rate.
18% will promote their app wildly through paid advertising and social media, yielding a 1:50 success-rate.
Only 5% of app developers discover a sustainable long term solution for getting high volumes of downloads. 1:2 success-rate.
What do the last 5% of app developers do differently from the other 95%?
Well, they don't all run a successful blog. But they do find and use sustainable methods for acquiring new users at a minimal cost.
Blogging is just a great example for how to achieve that.
See also: The Quick And Dirty Guide To Content Marketing For Smart Apps
Why you should start a blog today
1) Catch some eyeballs: For the exact same reason why I blog every week – it draws in eyeballs. We've got people from all over the world reading our blog.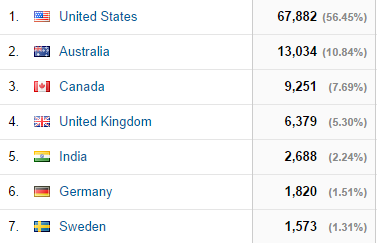 2) Leverage: You can use one blog to promote a number of different apps/products/events, etc.
3) Credibility: A blog helps you establish your startup (and yourself) as the authority in your industry.
4) Mobile search: More than 52% of search traffic is done via a mobile device. 38.62% of our traffic is from people using mobile devices. 6 months ago that was only 25%. Keep in mind, if your visitors are already on their smartphone then it's only a 3-step process to download your app.

5) Human connection: A blog allows your users to connect with you and your business on a human level. They read your words, see your profile image and get to know you. That builds brand loyalty and user retention.
6) User acquisition costs: Buying users today is too expensive. It's not sustainable any more. User acquisition costs via paid advertising is on the rise and the users you get are astonishingly low value.
"9K apps and 397M users show cost-per-install is the worst mobile user acquisition method." – Venture Beat CLICK TO TWEET
I was a bit hesitant when I first started blogging – "will this work?", "Am I wasting my time?", "Am I doing it right?" – but over time blogging has become the single most profitable marketing activity of my business, by a long shot. And believe me, I've tried it all:
Signage and print media
Online advertising (PPC)
Guerilla marketing
Social media
Network events
Cold calling
Blast emails
Letter drops
Etc.
You name it, I've probably tried it.
Other Startups Using A Blog To Attract Users
Blogging has provided the best return on investment for me, and thousands of others. This blog alone draws in hundreds of thousands of people.
But I'm not the only advocate for blogging. Check out this handful of highly successful tech-startups that use blogging as a primary tactic to promote their app:
1) Buffer
Buffer is a social media scheduling tool to help you manage your social media marketing activity. Their blog is all about building and marketing your startup the right way.
Mobile Dev HQ is a mobile app marketing application. They entered the market as a tool to help app marketers find and rank for the right keywords on the App Store/Google Play. They blog about hacks you can use to boost downloads and user engagement.
3) GainBits
GainBits is an online marketing blog headed by Luke Thomas, an online marketer and educator. Luke is currently using the GainBits blog to promote an app he's building and documenting the journey. Not a bad idea…
4) Hubspot
Hubspot is the leading online marketing automation platform. They run an extremely successful blog to help marketers and business owners (big and small) reach their customers and organise their marketing activities.
5) Twitter
We're all familiar with Twitter. But did you know they also run an active blog as well? Designed to keep us all in the loop of what's going on with Twitter. Thanks Twitter ;)
6) Kissmetrics
Kissmetrics is an web & mobile analytics software that gives you insights into what your users are doing. Their blog is targeted towards startups and marketers to help them optimise their marketing activities.
7) Apptamin
Apptamin helps startups connect with their target audience through short professional videos. They also provide detailed tips on how to build and market applications.
How people will find your blog
When I first started blogging I thought no one would read my stuff. But, as it turned out my articles started generating traffic immediately.
Believe me, people will come out of the wood works as soon as you start blogging.
As long as you (a) create good content, and (b) optimise it to be found, people will discover your content through a range of mediums, including:
Search engines; Google, Bing, Yahoo…
Social media; Facebook, Twitter, Google+, Linkedin, etc.
Word of mouth; people who find your content will share it. Look how many times this article has been shared already!
Other people's blogs; have you noticed the amount of blogs I've linked to in just this article?
What to write about
First of all, let's get clear on one thing: You don't have to write. If you're not a natural writer then you can run a podcast, or a video-blog leveraging the Youtube platform, infographics, etc.
Get creative.
Just make sure you're creating content that adds value. This the tricky bit, and part of the reason why it starts off a bit slow.
You need to make it your mission to learn about your ideal user/reader, and provide content that delivers value to them.
It took me about 5 weeks to figure this out. The key is to survey your ideal user/reader. Ask them:
What do you want to see/hear/read about in relation to your app?
What problems do you have that I can help you with?
What are you unsure about?
Here's a really comprehensive guide to getting crystal clear on your users 'wants and needs': Marketing To A Mobile Audience.
By the way, it's ok if you stuff up a couple of times. Check out my first 3 articles…they're pretty embarrassing. We all get better with practice.
Check out this handful of ideas you can use for generating great content: 22 Tips For Creating Great Content When You Don't Have A Clue – Kissmetrics
Here's a good place to start:
Make a list of 20 topics you can create content for. These will be your headings.
Write each headline out 5-7 times and try to make it eye-grabbing. Choose the strongest headline for each topic.
Under each topic, write 5 or more sub-headings for that piece of content. These represent the points you want to touch on.
Write a very brief 2-3 sentence paragraph for each sub-heading.
Now you have 20 topics that you can write/create content for over the next 20 or so weeks.
Wonder why I get you to write 5-7 versions of the same headline? Simple; I want you to reach deep inside your imagination to pull out your best work. This is a common practice among the worlds leading copy-writers.
Follow this tip and you'll a powerful edge over your competitors.
By the way, here is a check list from Quicksprout with 37 points for ensuring that your blog post is well written.
The 9 Musts of a Successful Blog:
There are 9 musts that I've identified over the time that I've been a blogger. If you implement these 'musts' they will help you drive more engagement, more traffic and more downloads:
Must be following the latest design trends. You need to appear cutting edge.
Must blog consistently – daily, weekly, bi-weekly or monthly. More is better, but consistency is key.
Must have engaging content targeted to your idea reader/user.
Must provide the ability for your users to share.
Must collect email addresses to keep readers in the loop.
Must have your own VOICE. Write the way you speak.
Must promote your app… It goes without saying however it would be an easy one to forget.
Must have a focused objective.
Must be spell-checked and grammatically correct. Everyone slips up sometimes (especially me) but make an effort to keep it clean.
Optimising your blog
There's room to get creative here. But to get you started I've provided 5 tips to optimise your blog:
1) Make it easy for people to share
Allow your readers to share via Facebook, Twitter, Google+, Reddit, Pinterest, Etc.
It's a crazy thing, but people share…a lot. Give them the option. I think you'll be delighted by the result.
This blog is run on WordPress.org and I use a plugin called Get Social to get the floating share-bar on the left hand side of this blog post (only visible from a desktop computer).
2) Collect email addresses
Offer something attractive in exchange. Use Mailchimp (it's free) to collect email addresses and send automated emails follow ups.
Pop one of these with an attractive offering at the bottom of all your blog articles. They work.
Take a look at the bottom of this article; 3.1% of people who see the CTA (Call To Action) at the bottom of our articles will click it. 31.25% of people who click the CTA will submit their details in exchange for a free book.
Here's what to do:
Think of 10 things you could give away in exchange for an email address. Keep in mind that it has to be attractive to your target audience.
Pick one give-away and write a catchy headline for it.
In one or two short sentences create a description that explains the value of what you're giving away to the reader.
Sign up for Mailchimp (or a similar service) to create an 'opt-in form'.
Place the opt-in form at the bottom of every blog article.
3) Promote your app
Why the hell else are you doing this – for charity? Create an attractive call to action/image and promote your app. Stick it in your side-bar (the column on the side of the article). Then link people direct to your app on the App Store/Google Play so that they can download it.
Follow these steps:
Write 10 catchy headlines that in one or two sentences explains the value of your app. Kind of like how KISSmetrics have done in the image above.
Pick the strongest headline. Create a call to action at the bottom of the image. KISSmetrics have used: "Start your KISSmetrics free trial."
Choose the wording for your button. Use a natural call to action like: 'Click', or 'Log in', etc.
Get a graphic designer to make it look snazzy. I've got designers in my team who do this stuff for me. But you can find reasonable designers on Fiverr.com.
Throw the image up on your blog post in the side-column (left or right) with a link pointing to your app on the App Store/Google Play.
4) Steal/borrow ideas
Copy ideas from my blog, and steal ideas from others! There's nothing wrong with taking other peoples ideas – so long as you're not blatantly ripping them off or stealing sensitive IP. 
"Good artists borrow, great artists steal." – Steve Jobs, Apple, requoting Picasso CLICK TO TWEET
Here's what to do:
Look at what other startups/apps are doing
Identify parts that you could copy (or use and improve)
Rinse & repeate
5) Automate your RSS mail-out
What is an RSS mail-out? Well, if you've been reading my posts for a while you will have been receiving emails to your inbox. There's one email that goes out every Thursday around midday to promote our latest article. This is 100% automated.
It gets sent out without me even knowing about it.

Use apps like MailChimp or Aweber to automate the RSS mail-out.
Promoting Your Content
One of the most important parts of creating content on a blog is; promoting your content.
Why? 3 reasons:
It becomes easier for people to find your content if you're promoting it.
The Google search engine will actually make it easier for people to find your content if they get the inkling that your content is good. and they'll get that inkling if your content is promoted.
People will only start sharing your content if they can find it. The more people that find your content, the more people will share it.
"The secret to content marketing boils down to three things: creating great content, making sure it gets found in search engines, and promoting it to your followers." – Neil Patel, Quicksprout CLICK TO TWEET
This is important, so make sure you spend some time promoting your content.
Automating Your Content Promotion
There are always ways of doing things better. Personally I like automation.
Did you know that you can schedule and automate your social media posts using Hootsuite or Buffer (for Facebook, Twitter, Linkedin, Google+, Etc.).
HINT: This is super effective; pop your latest article in your email signature.
Analysing Your Readers
Knowing which of you content your audience is engaging with the most is imperative to understanding what kind of content you need to create.
I typically want to know:
What articles are turning readers into sharers; and
What articles are turning readers into leads.
I also want to know:
Favourite content vs. least favourite
Most common paths within the website/blog
Demographics (location, handset type, gender, age, etc.)
You should be looking for similar insights.
Use Google Analytics to track your readers behaviour over time.
Here's what to do:
Create a Google account (if you haven't already got one) or log in to Google Analytics with your existing one.
Follow the instructions here to get your tracking code.
Once the tracking code is on your site, wait for 24-48 hours before it becomes active. This gives you some time to create content!
Jump back inside Google Analytics dashboard and start familiarising yourself with it.
Start publishing content and review your Google Analytics dashboard on a regular basis (at least once per week).
What To Expect

So, what should you expect from blogging?
Expect that it will take time; it will take effort; it will start off slow; and if you stick with it, it will pay off.
Blogging is a slow-grow strategy but the results are explosive and long lasting. The idea here isn't to try it out and "see how it goes". It's about doing it to the best of your ability until you get good at it.
Remember, just like programming; or selling; or designing is a skill, so is content marketing. And new skills are developed over time with plenty of practice.
Other benefits of blogging
Networking opportunities – I get interviewed regularly, taken out for lunch/dinner, and offered opportunities.
You learn a lot – Imagine what you can learn from writing about your industry every week.
Authority and traffic – You become the authority in the industry; the #1 source of knowledge.
The blog becomes an asset in itself – Depending on how things turn out you could sell the blog. You wouldn't be the first to have done that.
Here are a handful of prolific bloggers that I follow and learn from:
Opt in to their subscriber lists to start receiving their weekly tips and advice.
I highly recommend checking out this epic free course: How To Start A Blog. It includes PDFs, video and audio instruction for blogging beginners.
Conclusion
The world of marketing is changing quickly.
10 years ago it was all about 'who could make the most noise'. Throw a hundred messages out there and you'll get customers.
But spray-n-pray marketing methods don't work anymore, or at least not as well as they use to. Today it's all about delivering value. Getting to know your customers/users/readers. And building a meaningful relationship with them.
Blogging offers an opportunity to do that and get your app out in front of people in a non-intrusive way. It positions you as a leader. Someone who gives a damn. It gives you an advantage over your competitors.
Put together a powerful marketing plan with our template below…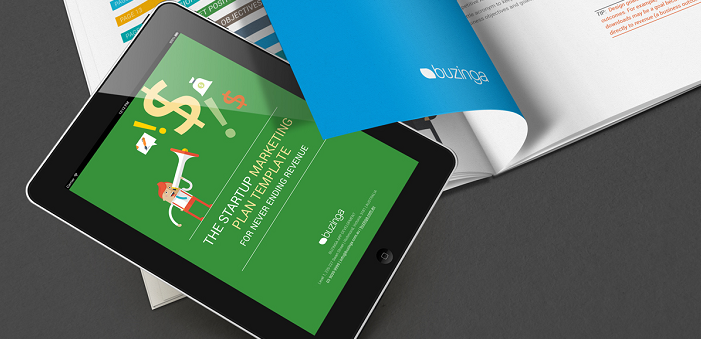 The following two tabs change content below.
Logan Merrick is the co-founder and Director of Buzinga, as well as one of Australia's most recognised entrepreneurs, keynote speakers, investors and mentors. His writing on startups, technology and mobile marketing has been featured in The Australian, Business Insider, Startup Smart, Smart Company, and more.
Latest posts by Logan Merrick (see all)
https://www.buzinga.com.au/wp-content/uploads/2014/09/How-to-get-explosive-growth-and-app-downloads-using-a-blog.png
358
895
Logan Merrick
https://www.buzinga.com.au/wp-content/uploads/2017/06/Buzinga-Logo-Old-Small.png
Logan Merrick
2014-09-17 06:07:28
2016-07-07 02:24:19
How To Get Explosive Growth And Downloads Using A Blog