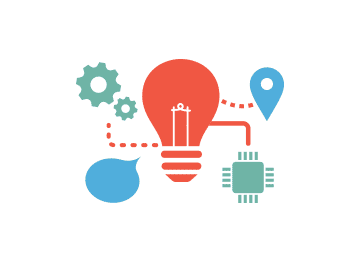 Your application could be revolutionary and life-changing…or the world's best kept secret.
In this post I'll cover off the Top 10 Big Brand App Marketing Strategies to give you an upper-hand when your app goes to the App Store.

No frilly stuff or pretty pictures. Just hard-core app marketing strategies in a bottle.
Feel free to share this post with your friends and colleagues. After all, good content is made for sharing and I've taken no shortcuts in delivering to you what I think is the best syndication of marketing advice in app development, period.
Let's get started:
1. User Experience
3 out of 4 apps that are downloaded, are opened once and never used again… The root cause to this is that the user who downloaded your app either found it to be too hard to use; too boring/ugly; or they thought it wasn't relevant to what they were after – even if it was.
When designing your app you need to put the core functionality of your app at the very forefront of the experience. Strip off any functionality and features that add no or little value to the core concept.
You should also focus your energy on delivering the core functionality in the most easiest and accessible way possible by making the app intuitive to use. This can be done in a number of ways with the use of particular:
Icons

Words

Arrows

Familiar features

Etc.
You would be surprised at the amount of app developers and graphic designers who get this wrong.
Because application developers are focused on the software and the graphic designer is focused on making everything look pretty. So who's looking after the user?
Take a look at our 6 Hot Tips For Designing A Magnificent User Experience.
The other end of that stick is the level of engagement the user has with your mobile application. In most apps the engagement is pretty low, and so the overall results are weak.
We recently published a post on how to boost the user engagement through gamification – How To Gamify Your App.
You will also notice that I often refer to the 'User' as a single person, as opposed to 'Users' being the millions of people who'll hopefully use your product.
The reason for this is that as a marketer you'll generally have a profile of a particular person in mind that you want to target.
You design your software/marketing/approach to accommodate this profile. And as a result you generate a mass following and a user-base of raving fans.
2. App Store Optimisation
Did you know that 20% of app downloads are contributed directly to the search traffic on the App Store/Google Play?
That means if you have an app, or about to develop an app, 20% of your downloads are going to come from organic search. So, thinking like any other commercially-minded human being: "How can we take advantage of the situation?"
App Store Optimisation.
The term was coined by Ian Sefferman from MobileDevHQ to describe the process of optimising your metadata (title, description and keywords) on the App Store/Google Play to make it easier for your target smartphone users to find your application on the store.
Click this link for a fantastic write-up by Ian on App Store Optimisation.
3. A/B Split Testing
A/B split testing is used to run two versions (version A & version B) of a particular screen (with mild to moderate graphical differences) concurrently against a live user-audience to find out which version provides the best result.
There are a number of softwares available to let you set these tests up. The most important thing is that you set the tests up correctly.
See our 3 Basic Split Testing Tips To Increase App Revenue By 250%
4. Social media
Social media marketing is crowned to be the most revolutionary marketing tool available today (after mobile of course!!). But it can also be an enormous waste of time…
From the marketing director of a company who generates 30% of their leads through social media marketing, hear me when I say "Please take the time to learn to do it properly". It's worthwhile and can pay off big time.
Check out our post on 5 Tips For Getting Your App Shared On Facebook.
5. User acquisition
User acquisition is by far the most effective way to get tonnes of downloads from users of your particular target profile. And this is THE strategy used by big app developers and brands worldwide. So take your time with this one.
The strategy entails buying users from other apps/sites on a 'pay-per-click' basis through ad networks and incentive programs like iAds, Revmob, TapJoy, etc.
One of the most important lessons in user acquisitions is to use as many different mediums of traffic as you can to get a wide sample of user downloads (to profile and track your ideal target market) and to find the best possible cost-per-click.
We wrote a quick-guide on How To Drive Thousands Of Users Into Your App with the user acquisitions strategy.
6. Get featured
Getting your app featured by Apple on the App Store can reward you with an absolute avalanche of downloads which will not only push your app up in the ranks but the overall usage of the app is boosted tremendously which hopefully results in a lot of social media sharing and monetisation.
To get your app featured your application will need to cover the following areas:
Use the latest tech – Apple loves it when you use their latest software (iCloud, AirPlay, etc.)

Visuals sell – your app won't be featured if it isn't presentable…

Develop for iOS only, and on all devices – obviously.

Get the word out about your apps through PR, social media, etc. – the more popular it is the better for Apple.

Simply develop an incredible app – overall, this is the most important factor.
Click this link to get the full scoop on how to get your app featured on the App Store.
For a case-study on how we got Extreme Basketball Tour featured on the App Store, check out this link.
7. Monetisation
The way you monetise your app will have a profound impact on how much revenue your app generates.
It's not as clean-cut as to say that an app that monetises through in-app purchases will drive more revenue than an app that generates revenue from ads.
You really have to look at every app individually because some models suit certain types of apps better.
Check out our full report on app monetisation, called the App Monetisation Guide as part of our app developer resources below.
8. Growth First Revenue Later
Perhaps 'revenue' isn't the ideal place to start at all? …
There's a reason why tech-startups focus on Growth First and Revenue Later. In software, if you don't have a lot of users you won't get a lot of revenue. And in nearly every case I've ever come across there is a big lull in downloads when the app developer tries to drive revenue too soon (or in some cases – AT ALL).
Of course you still have to develop your application/software to the highest of quality as if though you WERE going to charge for it, so that it's valuable enough for your users to share and brag about it with their friends.
It's worthwhile reading this post to really understand Why Tech Startups Are Focusing On Growth First And Revenu Later.
9. Analyse everything
In traditional advertising a marketer would put up an ad on a billboard by a busy street and hope-like-hell that it works. In addition to that, it was very hard to measure its success to get any indication as to HOW WELL it worked. That also made it difficult to test and tweak the results of your marketing material.
In this day and age, as a marketer, you can upload an ad to an online ad space, and measure exactly how many people saw it, how many people clicked on it, how many people clicked on it AND purchased your product; or better, if they didn't buy you can see WHERE they dropped off, giving you the opportunity to tweak your landing page/website and increase the purchase rate.
You can see certain other details about this person as well, E.g. where they are in the world; if they were on a PC or mobile device; what content they looked at on your site; and with some softwares you can even find out their sex.
This gives you a profile of who your user is and how you can tailor your marketing/product to accommodate and attract this particular person.
How is this all relevant?
Because now you can use analytical software in your app as well, giving you the exact same power of knowledge.
There are a number of different app analytics softwares available. We've taken the time to put together a list of the 10 Most Popular App Analytics Tools for you.
10. Press Release
Releasing your app to the media is a great way to drive a bit of buzz about your app, and if the message ends up in the right hands you could potentially see some serious download numbers.
Now it's not as easy as just sending a link for your app on the App Store to an mobile application review company… There's a little bit of work involved but the potential results of a successful press release are worth it.
We've put together a short Tutorial on How To Structure A Press Release.
As a nice little bonus for you I've provided my list of the top 100 app/tech review companies worldwide in the link above. Enjoy.
The following two tabs change content below.
Logan Merrick is the co-founder and Director of Buzinga, as well as one of Australia's most recognised entrepreneurs, keynote speakers, investors and mentors. His writing on startups, technology and mobile marketing has been featured in The Australian, Business Insider, Startup Smart, Smart Company, and more.
Latest posts by Logan Merrick (see all)
https://www.buzinga.com.au/wp-content/uploads/2013/09/big-brand-app-marketing.gif
255
360
Logan Merrick
https://www.buzinga.com.au/wp-content/uploads/2017/06/Buzinga-Logo-Old-Small.png
Logan Merrick
2013-09-25 03:39:14
2016-07-21 11:40:25
Top 10 Big Brand App Marketing Strategies