The results are in from the Startup Muster 2015 report!
Now in its second year, Startup Muster is the largest annual survey of the Australian startup ecosystem.
This year, over 600 Aussie startups filled out the survey of over 70 questions to give us new insights into the characteristics of startups and the challenges they are facing.
Click here to read the Startup Muster 2015 report.
Here is a round up of the results from the report we found most insightful.
What does a startup founder in 2015 look like?

The majority of startup founders in 2015 were male, tertiary educated, aged 30-40, and born in Australia.
50% of startups surveyed had no startup experience, while 21% had previously founded 1 other startup.
The report showed the large majority of startups surveyed were founded in Sydney (44%) with Melbourne coming in second (17%).
The main motivation for building a startup was dissatisfaction with previous job (I was in that boat too!) or a fun project that turned into a viable business.
2. The hottest industries
These are the industries startups are capitalising on the most.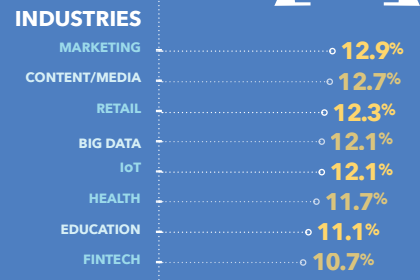 Marketing, big data and the Internet of things are relatively new industries so it is not surprising that many startups are jumping at these new opportunities.
However, the considerable amount of startups being founded in old industries like retail, health, education and finance reflect how big corporations in these industries are now collaborating with startups to ensure they remain agile, innovative and therefore competitive in the years to come.
Partnerships, incubator and accelerator programs and sponsored events are just some of the ways that enterprises are fostering startup growth in Australia.
These findings also show that startups aren't afraid to go after the big markets with massive revenue potential – 46% surveyed were going after markets with an estimated market size of $1 billion or more.
See also: The Startup's Guide To Estimating Market Size For An App Idea
3. Where's the funding coming from?

Startups are making a considerable go of it to use as many funding avenues as they have available to them.
The increase in use of public and private grants in 2015 was interesting, as well as an increase in the use of family/friend investment rounds.
I'm an advocate for putting off seeking private external funding from investors for as long as possible, so it's refreshing to see startups are pulling money from other avenues to achieve a higher valuation once they do hit the investment circuit.
Notably, 66% of startups surveyed reported they were reliant on funding to stay alive in 2015, showing just how important this area is to future innovation in Australia.
See also: The App Developer's Complete Investment Kit
4. Biggest challenges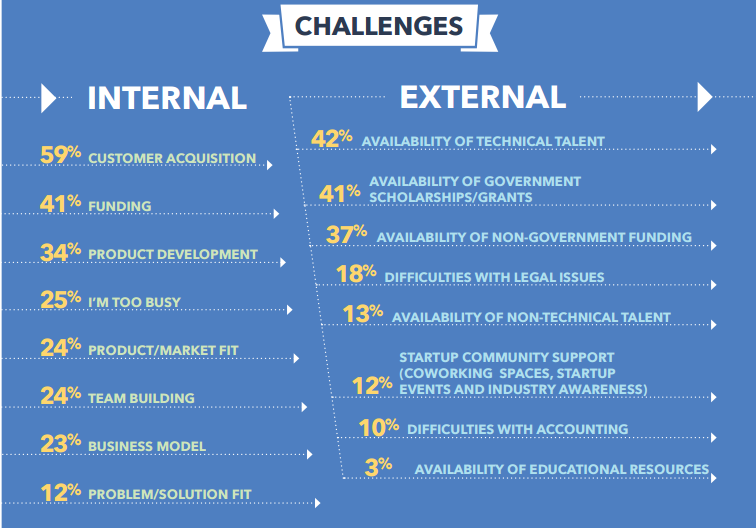 Customer acquisition is the most widely reported internal challenge by a landslide, followed by securing funding.
This speaks volumes about how much startups struggle with developing and executing low-cost marketing and sales strategies. The old 'built it and they will come' philosophy DOES NOT WORK.
I recommend to all my clients that if they serious about making waves with their business, they need to appoint a dedicated marketing person to handle acquisition, ongoing engagement and all customer support.
Otherwise you're going to find yourself with an expensive business and no customers.
Make sure you check out these resources to help you:
Customer acquisition
Funding
Head over to the dedicated funding section of our blog for articles on pitching to investors, how to prepare investment documents, crowdfunding and government grants.
Also, download The Complete Investment Pitching Kit For App Developers.
5. Requests from government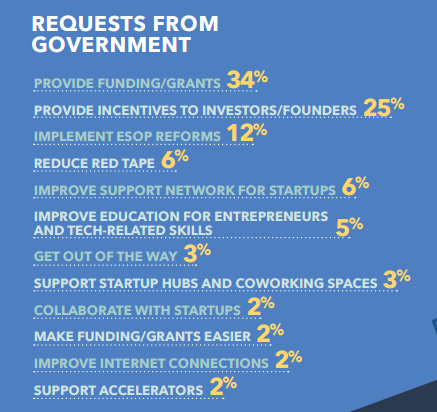 This survey was carried out in January and February of 2015, before the startup sector had the light shone on it by Malcolm Turnbull.
Now, it seems that the government has plans to directly address the biggest requests coming from startups.
In Turnbull's innovation statement this week there are 24 policies including several that will provide tax incentives to investors, as well as increase the amount of grants and public funds available for early stage startups.
This will hopefully give startups the boost they need to secure seed funding from risk-averse Australian angel investors, as well as reduce the amount of Australian startups leaving the country to operate in more startup-friendly nations.
The startups 2015 report also found that only 61% of startups surveyed had plans to continue operating in Australia beyond 2015.
Moving forward
Moving forward, the Startup Muster 2015 report sheds some real insights into how the ecosystem can be nourished to reach the global potential we all know is there!
It seems that Aussie startups are not afraid to tackle the big industries and are looking for greater support from the government and investors to get there.
It's this action that will create a community and culture of innovation in Australia!
Where to go next
Why Malcolm Turnbull Is The Best Excuse To Build A Startup In 2015
10 Fatal Commandments Of Building A Startup
The 2 Forgotten Secrets To Startup Success

The following two tabs change content below.
Logan Merrick is the co-founder and Director of Buzinga, as well as one of Australia's most recognised entrepreneurs, keynote speakers, investors and mentors. His writing on startups, technology and mobile marketing has been featured in The Australian, Business Insider, Startup Smart, Smart Company, and more.
Latest posts by Logan Merrick (see all)
https://www.buzinga.com.au/wp-content/uploads/2015/12/startup-muster.png
359
900
Logan Merrick
https://www.buzinga.com.au/wp-content/uploads/2017/06/Buzinga-Logo-Old-Small.png
Logan Merrick
2015-12-08 05:01:07
2017-05-25 18:19:07
The 5 Biggest Insights From The Startup Muster 2015 Report