How are you encouraging and collecting user feedback in your app?
Feedback is at the heart of business growth. Especially negative feedback. Sure it stings a little bit at first, but there are always gold nuggets buried in a negative review.
Even Bill Gates loves feedback:
"We all need people who will give us feedback. That's how we improve." – Bill Gates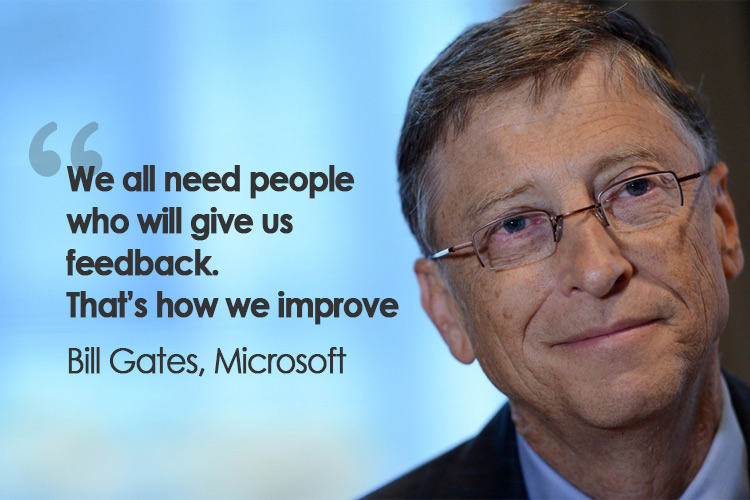 There are a tonne of ways to gain feedback and cultivate a community around your startup after your application has gained significant traction, e.g.:
Start an open forum/wiki for users to discuss hot topics around your app
Hold focus groups with loyal users and utilize user feedback tools
Create a hashtag to focus online discussion
Host a Google Hangout webinar
      But what about if you're just starting out?
Let me ask you a question: If people AREN'T flowing to your app yet, and your user base ISN'T growing exponentially, how can you expect people to use a forum to talk about your app?
That's right, they won't.
So how then can we encourage our users to provide feedback?
Here are 10 tools you can use to generate meaningful and actionable feedback from your users.
Bonus: 5 Free Ways To Get Real Users To Test Your App

Helpshift is an easy to use, all encompassing feedback tool that helps mobile app developers extract real user feedback.
They're positioned as an in-app customer support platform that enables you to make improvements to the user experience, drive higher ratings and increase retention.
Features:
Live in-app communication with your users
In-app notifications and push notifications
Prompt users to review your app on the App Store
Web based agent dashboard to manage user satisfaction and keep track of feedback
Supports: iPhone, iPad, iPod and Android apps
      Pricing: Free for apps under 10K monthly active users, $185/month for 100,000 monthly active users, then custom pricing for larger enterprises.
Apptentive have built their business and reputation around helping tech-startups connect with their mobile audience to "share the love".
They also host one of my favourite blogs – definitely worth following.
Features:
Drive 5 star reviews with in app notifications
In app live messaging with your users
CRM integration – turn your app into a sales platform
Supports: iOS and Android app development
      Pricing: Request a quote depending on your business size and needs.
Miscellaneous: 30 Day free trial. Out of all these services I have always been attracted to Apptentive. A great brand mixed with good pricing structure and incredible features…you can't go wrong. Check it out >  
3) Email
This isn't really a product or service. It's a personal recommendation from myself. 
Always include an email feedback option for your users to avoid negative feedback on the App Store/Google Play.
It's a simple implementation and doesn't cost much.
Throw in to a position where it's easily accessible, E.g. Sidebar, settings screen, etc. I wouldn't rely on email feedback alone, as your primary feedback solution.
But it's a must have either way. If you haven't already, ask your app developer to implement an email user feedback function.  

Let users tell you where the bugs are, directly, rather than finding negative reviews on the App Store/Google Play.
I think you're probably starting to realise that a great deal of this exercise is about quarantining negative feedback (where no one can see it).
Bugs are a fact of life – how we deal with them is up to us.
Features:
Integration into bug tracking tools
Support – iOS and Android application development
      Pricing: The first tier is free, which gives you 2 agents for 2 apps. The second tier is $49/mo for unlimited agents and unlimited apps. Third tier $149/mo, and fourth tier is $349/mo. Then there's a custom plan.
Miscellaneous: 14 day free trial – not as good as a 30 day trial right? Check it out >
Related article: 10 Most Popular Push Notification Services  

This is an open source help desk for iOS and Android app development. You know what that means right?
It's free. And in the world of software, free is often good.
Features:
User issue reporting/in-app feedback
Real time in-app chats with users
Users can attach screenshots from their experience to help fix issues quicker
Automatic device and app info capture with every message
Customisable user interface
Support – iOS and Android app development
      Pricing: Free, free, free…
Miscellaneous: Well it's free, and it's owned by Happyfox, so you know it's good. Check it out >  

 Positioned as a customer service solution, User Voice gives you a scalable solution for great in-app support and churn reduction.
Features:
Contextual awareness – app, user, phone, page details to assist in finding and fixing bugs
Team motivation tools (leaderboard, etc.)
Supports – iOS & Android apps developers
      Pricing: $45/mo per agent with limited functionality, $85/mo per agent for full functionality.
They also provide annual deals (pay upfront for a modest discount).
Miscellaneous: This is a great option for the little guy with big hopes – start with the Free subscription. Check it out >  

 Do you want real video reviews of your app by real people?
User Testing is unique to all of the above (and below) services because it puts your application in the hands of real people from around the world, testing your application.
See and hear where your users are getting stuck and why they leave.
This is great for pre-release user feedback.
Features:
15 Minute video with audio commentary by real people using your app
Choose your target audience
Test on computers, phones and tablets
Do it yourself or get them to set it up for you
Supports – iOS & Android applications development
      Pricing: $49/video for your first 10 videos, then $99/video after that, or start your own custom subscription plan for your team's needs.
Miscellaneous: This is a great way to rub out any silly user experience mistakes or overlooked complications in design before releasing your application to the public. Check it out >
Related article: 10 Most Popular Mobile Payment Gateways  

Have you heard of Survey Monkey before? They're an online survey solution that helps you get feedback quickly.
They have now released their new SDK (software development kit) for mobile integration.
How it works:
Create a feedback survey to answer the most important questions about your app
Integrate the SDK into the code
Automatically prompt happy users to rate your app
      Pricing: All in all the Survey Monkey plans are very competitive, starting FREE for 10 questions and 100 responses, and up to $65/mo for unlimited questions, unlimited responses, custom logos, multiple agents, etc.

Besides their awful name, AppStark is actually a good service. Their focus on community can be the difference between growth and exponential growth.
Features:
      Pricing: $10/mo for 1 app or $47/mo for 5 apps.
Miscellaneous: 30 day free trial and no credit card required. And they have a refund policy – 100% money back guarantee! Note: These guys are early in their development. Check it out >  

This service helps you collect feedback from your users by prompting them with the right questions at the right time. The average response rate is 32% which is fantastic. Features:
In-app questions – automatically pushed
      Pricing: Not displayed on the site…which is a bit annoying!
Miscellaneous: This service is in Beta mode at this stage so if you feel like helping a fellow app development company by being a part of their development then this is a good choice. Check it out > 
Wait up! Don't miss the must-read guide that helped a startup sell for $12 million… 
The following two tabs change content below.
Logan Merrick is the co-founder and Director of Buzinga, as well as one of Australia's most recognised entrepreneurs, keynote speakers, investors and mentors. His writing on startups, technology and mobile marketing has been featured in The Australian, Business Insider, Startup Smart, Smart Company, and more.
Latest posts by Logan Merrick (see all)
https://www.buzinga.com.au/wp-content/uploads/2014/11/user-feedback.jpg
359
900
Logan Merrick
https://www.buzinga.com.au/wp-content/uploads/2017/06/Buzinga-Logo-Old-Small.png
Logan Merrick
2016-07-15 00:00:55
2016-07-15 15:21:59
10 Most Popular User Feedback Tools For Mobile Apps