All serious app marketers need to be familiar with the greatest weapon you have for launching your app – The mobile app marketing funnel.
The Funnel
Fundamentally, 'funneling' in the mobile application development industry is a marketing term for when you direct a large volume of online traffic from a number of different sources into your landing page.
This is a highly effective marketing strategy and works every time.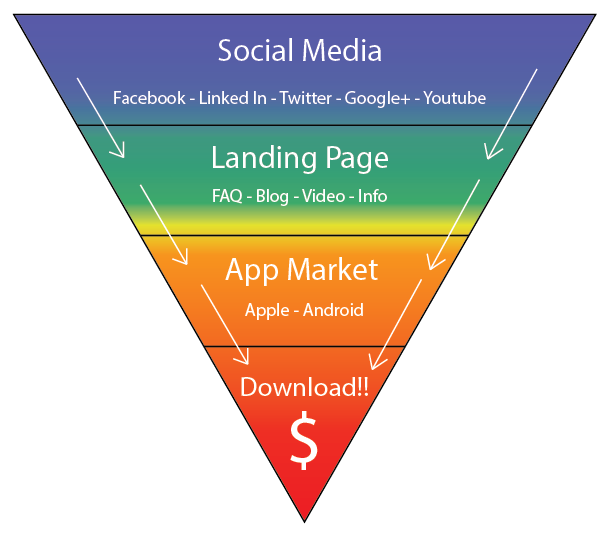 Targeted Marketing
I'm going to assume that you have identified your target market by now.
If you haven't then you need to read How To Get Crystal Clear On Your Users.
Make sure that everything you do is aimed at your target audience. It's about targeting your perfect customers to create raving fans. 1 raving fan = 100 downloads!
Website/Landing page/Blog
The first step is to set up your landing page/blog.
For my clients I use WordPress (Genesis Framework) as they are easy to use, quick to set up and the StudioPress themes are preloaded for SEO which is absolute key.
Some of the StudioPress themes are already optimised for mobile use which is a bonus as over 50% of search engine usage goes through mobile devices now.
You'll need to get a web developer to help you out here. It's not hard but you need to have a reasonable understanding of HTML.
Most apps will be fine with just a landing page, however. Learn how to build one in 9 steps here.
Social Media
The social media accounts you need are:
–          Twitter : one for your app and a personal account for each member of your team
–          Linked in : one for you and one for your business/app
–          Youtube : for posting videos about the production, updates, promos, etc
–          Facebook : for your fans to stay up to date
–          Google+ : for each member of your team for added publicity
There's no shortage of material on how to most effectively use the social media sites above for mobile app marketing purposes.
Here's a guide that our marketing team put together: The Social Media Playbook For App Developers
Sure, you can buy thousands of Facebook likes and Twitter followers but what's it worth when they don't engage with your information? Bots don't download applications, simple is that.
Use Your Platforms…
By platforms I'm referring to your social media accounts, your blog, and your other lead sources. Use these platforms to communicate with your audience. Speak to them about what they want to know. In other words, be their friend. Grow a relationship and educate them by giving them valuable content.

Every industry is different in terms of what you can talk to them about. But if you're developing a smartphone game application, you could speak to your audience about similar game apps. Write positive reviews on games. Give them something they will appreciate.
Setting up your funnel
Setting up your funnel takes time and needs to be done right. Your social media sites should be linked to your website and need to be marketed independently.
You may need to get a hand with your first app. Every app you develop needs its own funnel in order to work effectively.
Launch
On the launch date, you'll begin to direct your users through to your landing page by blogging a recommendation, Tweeting a special offer and posting a compelling story on Facebook with a link leading them straight to your landing page.
At your landing page you need to WOW them! They should be intrigued enough to click the button that will lead them through to the designated app store.
Don't throw too much imagery and information at them all at once. In most cases and for most people, less is more.
The App Store
Whether it's the iTunes App Store or Androids Google Play, here is your chance to seal the deal. Make sure you write some compelling content to seal the deal and get those downloads!
See also: How To Rank #1 On The App Store
Funnelling
This is the most commonly used strategy by all the top online iPhone and Android app marketers in the world. It's cheap, it's effective and as a bonus, it builds your brand. Branding is everything when you're building a Mobile App empire.
Smartphone users will download apps from the same maker if they liked the first one. This is why you need to ensure that the application you develop is of the highest quality and very well thought out.
Once marketed effectively, a good app will sell itself!
Where to go next
The Startup Marketing Plan For Never Ending Revenue
5 Concrete Ways To Reduce Your Mobile App Marketing Costs
The following two tabs change content below.
Logan Merrick is the co-founder and Director of Buzinga, as well as one of Australia's most recognised entrepreneurs, keynote speakers, investors and mentors. His writing on startups, technology and mobile marketing has been featured in The Australian, Business Insider, Startup Smart, Smart Company, and more.
Latest posts by Logan Merrick (see all)
https://www.buzinga.com.au/wp-content/uploads/2012/11/marketing-funnel.png
359
900
Logan Merrick
https://www.buzinga.com.au/wp-content/uploads/2017/06/Buzinga-Logo-Old-Small.png
Logan Merrick
2012-11-16 03:11:17
2016-06-02 06:08:26
How To Use The Mobile App Marketing Funnel