In this post I want to update my list of 10 Most Popular Push Notifications Services to keep it fresh for 2015.
Push notifications are a high converting marketing tool that can deliver relevant, targeted content to your users.
A good push notification strategy is essential to ensuring that every message is providing value, engaging users and building a wealth of customer loyalty to fall back on.
Otherwise, your messages will just annoy users, causing them to 'un-allow' notifications to be sent to them.
Make sure you also open up 6 Proven Best Ways To Use Push Notifications In 2015, you'll want to refer to that once you've browsed this list!
Why do they work?
Push notifications are effective largely because they are permission based and targeted.
This means there is no chance of you sending messages to someone who doesn't want it, and you can use your data to push personalised content to users.
Now we're cooking with gas!
The next step is to get complete access to all the juicy data on how users are engaging with your notifications.
a) which notifications are causing the highest conversions? (click through rate, purchase rate, impressions, etc)
b) which users were most engaged with your notifications?
c) Are there any patterns emerging? (with regards to demographics, time pushed, in-app pathways, etc)
d) How can I target different user segments with push notifications?
Bonus: How To Gain Actionable Insights From The Top 5 App Metrics
Armed with these metrics, you'll be able to continuously tweak your push strategy to maximize engagement and retention.
11 Most Popular Push Notification Services
This list is a quick comparison of push notification services and their offerings in 2015.
This will give you all the ammo you need to weight up the pros and cons of each service, and find one which best meets your app requirements. 

Urban Airship is an app messaging platform that offers mobile segmentation, analytics and reports, rich media pages and behavioral-based engagement strategies.
Top Features
A) App engagement – Includes a web-based editor where you can preview pushes on all devices, rich app pages (mobile coupons, images, videos) and a message center where users can discover high-value content.
B) Audience segmentation – Its targeting is highly sophisticated, building user profiles that combine in-app behavior, user preferences, location history and device information using beacon technology. 
C) Digital wallet –Its 'wallet studio' integrates with Google Wallet and Apple Passbook so users can store pushes detailing coupons, loyalty cards and promotions.
Pricing
45 day free trial with access to complete feature set for non-production apps, and access to web-based console and APIs.
It's one of the more expensive services: For developers, up to 1 million pushes are free in a month. After 1 million, each push costs $0.001. Every rich media push costs $0.0025.
Push Woosh's 'future ready' systems support push traffic going up to the millions. Its accounts bundle many powerful features such as multi-language support, remote APIs, advanced stats and location-based tagging support.
Top Features
A) Variety – Send push notifications to 19 mobile app development platforms including Android, iOS, Windows 8, Blackberry and WordPress.
B) Segmentation – Segment audiences based on marketing strategies, and schedule content in batches or all-in-one.
C) Reporting – Advanced reporting systems that allow for flexibilities in case of deviations
D) Enterprise offering – The Enterprise account (contact for quote) lets you build your own custom solution with full online support.
Pricing


Parse is a SaaS push notification service "built for massive scale",  offering a range of push message services including analytics, cloud storage, code hosting and social media linking. 
Top Features
A) Variety – Allows developers to send messages through the web console, REST API, or native SDKs.
B) Unique Analytics – The Parse Push Analytics module helps businesses to monitor app opens, push campaign effectiveness, and push opens. Supports A/B testing of push experiments.
C) Cloud support – The Parse Cloud handles our app's entire backend, so you don't have to worry about scaling or databases.
D) Non-technical – The Push Composer feature lets you write pushes directly on the web interface and preview pushes in real time on the platforms you target.
E) Connected to Internet of Things devices – SDKs are adjusted to work in hardware-constrained environments
Related Article: How The Internet Of Things Will Cause The World To Blow Up
Pricing
Parse uses a mix and match approach to their plans. Start with Parse Core as the foundation for your app, or just add Push or Analytics to your existing stack.

Appbooster's philosophy is that as more apps turn to the freemium model, marketers will have to target long term user engagement to help drive value. This service ensures users keep using an app once downloaded by providing them with applicable and geographically relevant content.
Top Features
A) Two-way inbox – This unique feature helps developers not only send in-app and push notifications on users' devices, but also helps to cross-promote multiple apps.
B) Gain feedback – User reactions are monitored effectively through its native feedback system. Positive feedback is rerouted automatically to the App Store.
C) Negligible learning curve – Zero technical knowledge is needed to broadcast notifications or monitor its progress through the web based analytics tool.
Pricing
Free

Push.io is a B2B level push notification provider. It focuses on delivering 'relationship-based marketing' and messages with context, so that the receiver finds value in messages. It recently got acquired by Oracle. 
Features
A) AutoPush –Only push provider to automate both the building and delivering of messages
B) Ease of use for new users – Only takes a few minutes for total beginners to sign up
C) Advanced analytics – Its 'dashboard' interface tracks the progress of marketing campaigns.
Pricing
Pricing not listed – contact for a quote

Catapush focuses on delivering reliable and traceable push messages. It is completely scalable and combines push and in-app messaging, personalisation and instant dispatch analytics and tracking.
Top Features
A) Reliability – Send APN and GCM push notifications even with mobile connection dropouts and loss of data connectivity.
B) Support – Offers 24/7 free support
C) Optional SMS backup – Catapush offers the option to send users automatic SMS messages when the app has lost data connection or isn't open on user's devices.
Pricing


IBM Xtify is an all-in-one solution offering planning, integration, debugging and deployment support. Its push notifications have become an effective user engagement channel showing relevant and timed content on all Internet-enables devices.
Features
A) Global support – Supports Android, iOS, Windows, BlackBerry native applications and websites.
B) Innovative management – Campaigns are scheduled for user time zones for greater engagement. It also provides CRM-defined segment targeting for greater precision.
C) Customization –  Allows for more precise personalisation using dynamic fields when building messages.
Pricing

Contact sales support – custom only

Mblox is the largest Application to Person (A2P) mobile messaging provider in the world, focusing on targeted marketing campaign management through push messaging. This allows developers to divide up their audience into segments based on demographics, mobile behaviours and other engagement metrics. The result is higher follow through on call to actions via push messaging than other marketing techniques.
Features
A) Templates – mBlox provides simple templates that help build marketing messages that integrate HTML codes (rich media embedded push notifications), YouTube, Twitter feeds, audio or images.
B) Use of CDN – mBlox uses Content Delivery network (CDN) spread across the globe, thus speeding up the notification process significantly.
C) Star Star Numbers – StarStar numbers are unique mobile phone numbers that connect brands with their audiences. By asking people to dial ** and then any brand name, organizations can instantly deliver any type of mobile content directly to consumers. 
D) Global reach – mBlox's network reaches over 6 billion mobile devices in over 190 countries.
Pricing

Contact sales support only.

Quickblox is a great all-rounder push service. It offers users automated notifications of news, scores, updates, alerts, reminders and call to actions. No matter what push message format you need, Quickblox has you covered. There are also options to integrate IM, video calling, social media and other communication features with the app.
Top Features
A) Massive scalability – Quickblox boasts the ability to send up to 10,000 push notifications per second.
B) Wider range of support – Supports a range of push formats, including pop-up messages, sounds, badge counters and links into the app.
C) Superior Scheduling  –  Scheduled notifications and emails can be customised to be delivered instantly, delayed and recurring.
D) Reliable support – 24/7 availability with 30 minute max. waiting time
E) Secure – Transfers data over a secure 256 bit AES encryption, supported by hourly backups and built-in firewall.
Pricing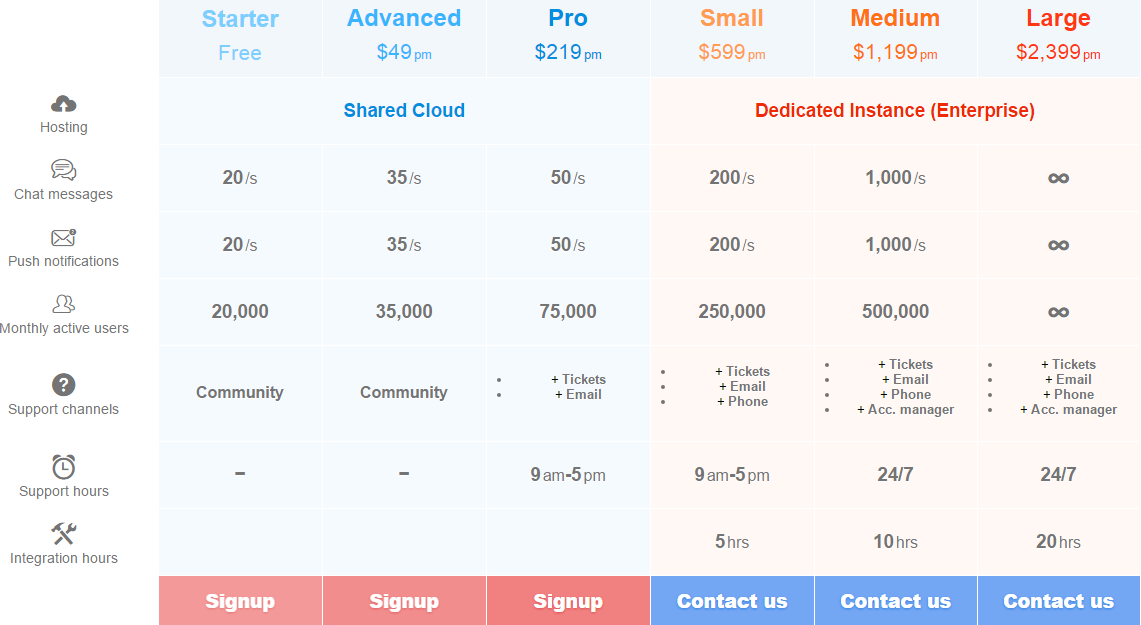 Appoxee's service combines automation and pertinence, for all major mobile platforms. Appoxee's focus for its push notification system is to extend your app's life cycle and increase customer lifetime value.
Top Features
A) Ease of development – Technically simple SDK with the capability to send text only as well as rich messages with deep linking.
B) Multi app/Multi messages campaigns – The Campaign Builder function lets your marketing team promote multiple apps through cross promotion.
C) In-app plugins – You can purchase plugins for extra engagement features like customer feedback and a notification preference center.
D) Beta Testing – You can test the message to a select group to measure its performance before full release.
Pricing
3 plans: Starter, Pro and Enterprise
Contact for a quote.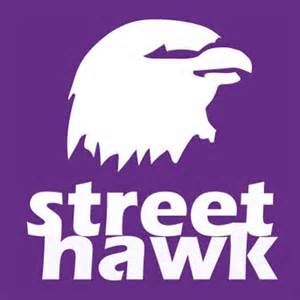 StreetHawk is an all-in-one mobile growth automation platform, focusing on increasing customer lifetime value through acquisition and engagement. As part of its 'Mobile Engage' product offering, push notifications are supported by campaign analytics, A/B split testing, geofences and iBeacons, and triggered engagement.
Top Features:
A) Rich actions – Allows for a variety of push actions without any programming requirements, like push notifications that can slide-up a web-page InApp or Launch a browser.
B) 'Out of the box' segmentation filters – Create campaigns that target users in real time at a uniquely triggered phase in the app experience
C) Personalised onboarding – New installers get a unique experience based on how they discovered your app
Pricing:
Start Plan: Free up to 10, 000 users, for 100,000 transactional pushes
Engage and Predict plans: Free trial, then contact for a quote.
How to choose…
Making decisions for your app is hard.
Break it down by first listing all your requirements. Then compare your requirements against each of these tools one by one.
Once you've make a shortlist of candidates, don't be afraid to contact the provider for more information so you can make the best choice.
You might find that the service that is the most helpful and efficient at responding to your questions will have the best support team, which can be the deciding factor.
What if you change your mind later?
You might find after a while that your choice of service isn't delivering what you need, or perhaps your needs have changed.
Don't stress! It's pretty easy to change your push notification service in your app's next update.
I hope this updated list gives you the information you need to make the best choice!
Where to go next
The following two tabs change content below.
Logan Merrick is the co-founder and Director of Buzinga, as well as one of Australia's most recognised entrepreneurs, keynote speakers, investors and mentors. His writing on startups, technology and mobile marketing has been featured in The Australian, Business Insider, Startup Smart, Smart Company, and more.
Latest posts by Logan Merrick (see all)
https://www.buzinga.com.au/wp-content/uploads/2015/07/push-2.png
357
900
Logan Merrick
https://www.buzinga.com.au/wp-content/uploads/2017/06/Buzinga-Logo-Old-Small.png
Logan Merrick
2015-07-02 02:10:16
2016-10-04 08:58:31
Comparison Of 11 Push Notifications Services