A few weeks ago I was fortunate to be featured in Business Insider for my thoughts on how Pokemon Go has raised customer expectations for applications of augmented reality.
Augmented reality presents a huge opportunity not just in the gaming community, but in sophisticated business tools that deliver a far superior level of engagement with the end user.
In this post, I'm giving you my predictions for how we'll see businesses apply augmented reality to their product and service offerings.
Pokemon Go's success has been more than just a fun fad and a way for the council to issue record amounts of parking fines.
It also also serves as a warning bell for Australian businesses that customers are leveling up their expectations.
Augmented reality isn't exactly news in tech (we've seen crude uses of AR as early as 15 years ago).
However, it is news in the context of finally being packaged in a way that is user friendly enough for mass consumption.
Pokemon Go has set the highest standards of AR in terms of user experience, engagement and personalisation that we've seen yet.
What does this mean?
Now that Pokemon Go has validated the demand for this technology, it's up to businesses to translate this experience across to their own applications.
Without this preparation for AR, it's inevitable that businesses will fall behind or fade completely in the 'race for engagement'.
Advantages of AR in the business
It won't be long before all smartphones and tablets come with built in AR/VR functions.
If the enterprise Bring Your Own Device trend is anything to go by, this technology will allow employees to simplify their day to day tasks and enhance mobile processes.
There are several advantages of using AR technology in an enterprise context:
Perception. Implementing AR practices enhances public (and internal) perception of a business as innovative and committed to staying on the cutting edge. This can be a powerful source of competitive advantage.
AR takes content to the next level of engagement. Marketing solutions that have an AR component will result in greater reach and engagement with customers. As Pokemon Go and Snapchat filters have shown us, these solutions have the potential to go viral.
Customer onboarding. Userguides, processes and step-by-step instructions are much more informative and compelling when presented via augmented video.
Employee training. Wearable AR devices allow employees to be better prepared for practical tasks they may face on the job.
Watch how Pepsi Max are innovating their outdoor marketing with AR:
 Health
Health tech is a $116 billion market in Australia, and is one of the most obvious candidates for disruption given its size and importance to our society.
Augmented reality is enabling all health practitioners to perform their jobs faster and more accurately.
Startup AccuVein helps nurses and doctors deliver intravenous injections using a handheld scanner.
"40% of injections miss the vein on the first stick, with the numbers getting worse for children and the elderly… This technology makes finding a vein 3.5x more likely."
Improving the accessibility of healthcare is an area where AR and VR can add most value.
As we've seen with the rise of e-clinics, patients care more about convenience and access than they do about physical contact with their doctors.
The next step is for doctors, midwives, nurses and other consulting physicians to pay virtual visits to their homes.
Particularly for check ups and other necessary, low-intensive appointments, a virtual visit would dramatically increase the accessibility and affordability of healthcare for people in regional areas.
See also: Why Mobile Health Tech Is So Much More Than A Fitness App.
Conference and collaboration tools
Social media like Facebook, Twitter and Linkedin are poised to deliver the best augmented reality experiences in conferencing and online meetings.
We are already seeing them move into this space and becoming more of a multi-dimensional communication platform, through Facebook's introduction of Live Videos, and Twitter's similar options of Periscope and Meerkat, for example.
The reason why I'm expecting these companies to make the first move in AR conferencing is they already have the audience and consumer trust.
This removes some of the barriers to 'educating the market' that always come with the introduction of a new technology.
Education
Online courses and e-learning portals have already proven the demand for high quality, affordable online education.
As education is a globally competitive industry, there is huge money to be made for the university that offers immersive augmented reality courses which give students access to world class experts.
Meanwhile, in primary and high schools, AR is making waves for its hands on applications.
See the Magic Leap product demo below and be blown away:
Edtech is an estimated $8.38 billion market. AR will eventually make its way into classrooms in much the same way that videos are currently used to support theories being taught.
See also: 4 Big Predictions For How Technology Will Disrupt Our Broken Education Industry
Real Estate
For an industry that has historically been so slow to adopt new technologies, I've been impressed with the headway some big real estate companies are making in this space.
Real estate giant REA has beta-launched a 'digital neighbourhood' mobile app, which allows the user to scan a property sign of a house and instantly receive 3D property information.
This information includes a 3D image of the floor plan as well a video tour of the property's insides, among other AR features.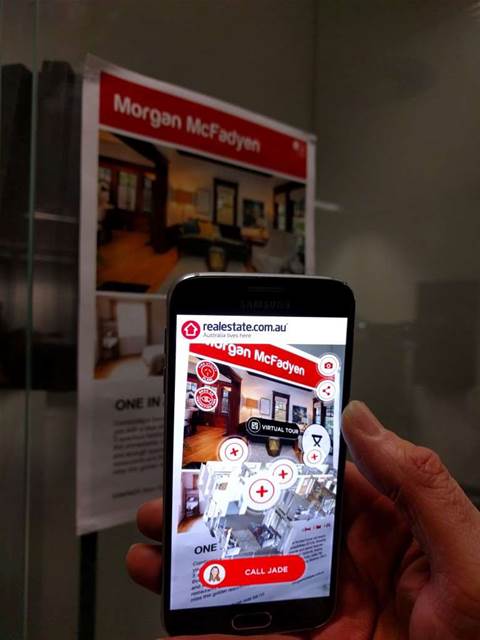 This app lets potential home buyers virtually 'step into' the house instead of having to attend house inspections in person, and could potentially eliminate lengthy queues on open days.
There is reportedly huge demand from real estate agents due to the time-saving aspects of the app, especially around the 'open for inspection' process.
Along similar lines, some online furniture apps are supplementing their furniture browsing experience by letting users visualise how the furniture may appear in their rooms.
This takes advantage of the iPhone camera roll so users can display overlays in real time, even making changes to colours using the app's variation tools.
I'm expecting savvy real estate agents to be using similar tools even at the point of sale, as just another touchpoint for the home viewer to visualise their personal belongings in the house.
Retail
Augmented reality is perhaps best known in the cosmetics industry, with apps that allow shoppers to view themselves wearing different styles and shades of makeup.
While much more complicated technically, this should make its way into clothing fairly soon.
Some companies have already attempted this, but in my opinion none do it well enough for mass consumption just yet.
The reason bricks and mortar still have a place in the retail shopping experience is their tangible benefits that online cannot currently replicate – the ability to try on the clothes before purchase, namely.
With an augmented experience that lets shoppers visualise themselves in the clothes, this barrier can be eliminated.
This would also minimise the costly process on both retailer and customer of organising returns and refunds for clothes that didn't fit, or 'just didn't look right'.
See also: 5 New Technologies Disrupting The Retail Industry
The main takeaway
Clearly there is no stopping the permeation of AR into every business and marketing function.
The worst thing you can do is dismiss augmented reality as 'too complicated' or 'irrelevant' to your business.
Don't underestimate your ability to drive genuine innovation in your business.
If you want to have a conversation about how to identify and solve problems in your business with scalable, efficient technologies, get in touch.
The following two tabs change content below.
Logan Merrick is the co-founder and Director of Buzinga, as well as one of Australia's most recognised entrepreneurs, keynote speakers, investors and mentors. His writing on startups, technology and mobile marketing has been featured in The Australian, Business Insider, Startup Smart, Smart Company, and more.
Latest posts by Logan Merrick (see all)
https://www.buzinga.com.au/wp-content/uploads/2016/08/pokemon-banner.jpg
359
900
Logan Merrick
https://www.buzinga.com.au/wp-content/uploads/2017/06/Buzinga-Logo-Old-Small.png
Logan Merrick
2016-08-10 13:08:25
2016-08-10 14:35:05
Beyond Pokemon Go: Real, Profitable Business Applications Of Augmented Reality