How can you build an enterprise application that employees will actually use?
The corporate sector is now reaping the rewards of smart mobile strategies, but many businesses haven't cracked the code to building highly profitable applications that deliver long term value.
A staggering 80% of enterprise engagement apps fail to engage users. This is what we call 'The engagement gap'.
The reason for such low engagement? The majority of enterprise apps don't add any real value.
They are simply adequate, because there is no market competition to drive improvements and innovation.
No competition leads to:
Slow apps
Non-intuitive UX
Clunky, old-fashioned designs
It's imperative for the growth of your business that you build applications that work WITH employees, providing seamless applications that evolve with your company.
I came across an infographic that summarises Jacob Morgan's 'The Future of Work' the other day: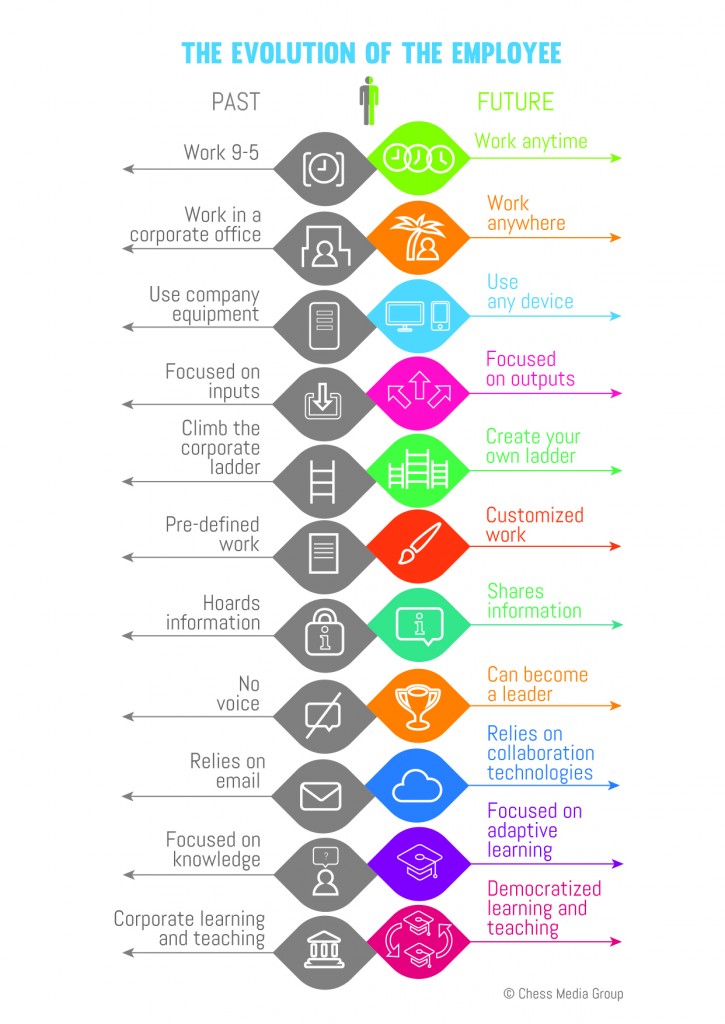 The 'future' employee is what we are already seeing now in the way we work.
What systems, applications and technologies do you need to provide to facilitate this evolution of the employee, that will ultimately empower your workforce and streamline inefficiencies?
Here are 5 important tactics for implementing a highly engaging and valuable enterprise application.
Mimic the user-friendly design of consumer apps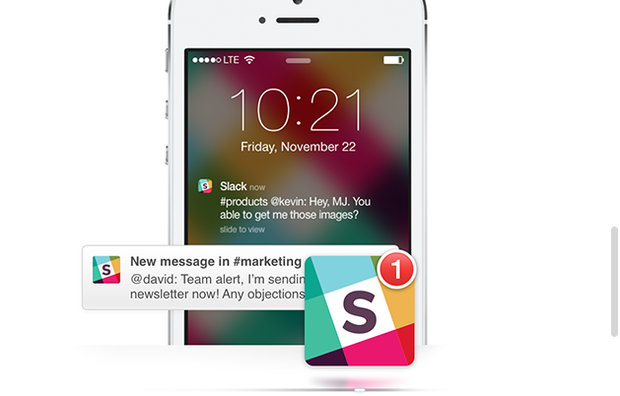 Employees don't want complicated, feature-packed enterprise software that takes precious minutes out their day to use.
When we download consumer apps like Uber and Spotify, we have the highest expectations of product design.
79% of users will give apps a second chance if it failed to impress them on the first go, but that number plummets to just 16% that will go back for a third attempt.
We simply don't have the time to be teaching ourselves how to use apps.
So why would you expect any different from your employees using apps at work?
If anything, our time is MORE valuable at work. If your employees are having to teach themselves how to use bloated, complex systems, you can rack up thousands of dollars in lost time and revenue for your business.
Employees will get most value from lightweight, easy to use apps that solve the core problem. If you need an onboarding tutorial to teach the user how to use the app, you're doing it wrong.
As a benchmark, try to keep all app user flows to less than 1 minute long.
If it takes longer than this to complete the goal, employees will become frustrated and revert to their old 'tried and true' (inefficient) methods.
2. Take time choosing the platform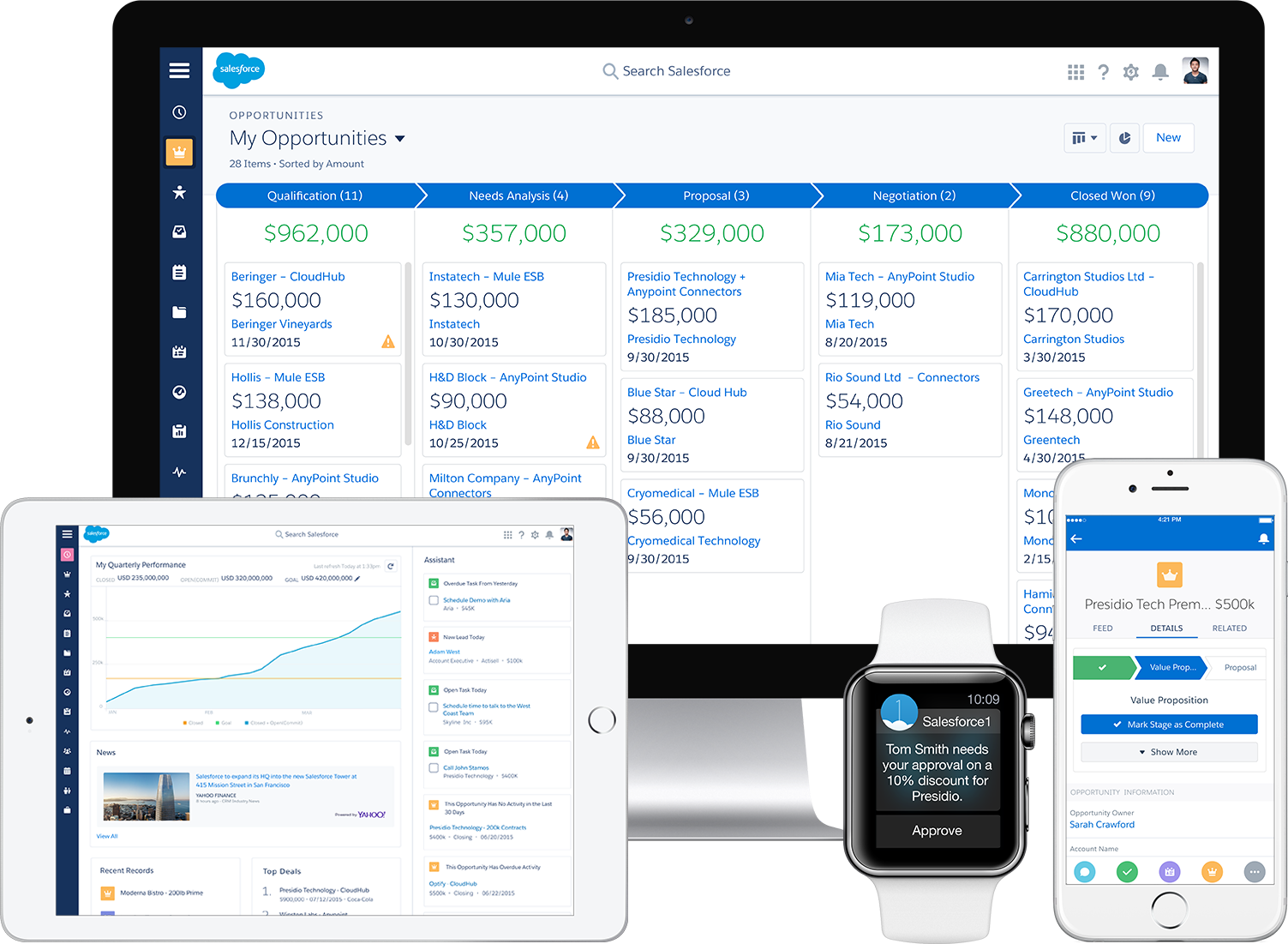 10 years ago the only devices you'd find on an employee's desk were a desktop computer and a phone.
Today, the average employee uses 3 devices in any one working day – which may include a laptop, tablet, e-reader or smart watch.
Gartner predicts that this will eventually increase to 5 or 6 devices as technologies like IoT and wearables reach mass market levels.
Consider what information will be provided in this application, where that information is best accessed, and decide how to deliver it accordingly.
If your application requires data input by employees on the go (for example, field workers and sales consultants), a mobile app or wearable may be the best option.
Alternatively, if your solution is simply for ease of access of information while on the go, a mobile website may be sufficient.
For complex and multi-functional systems, a dashboard or web app could be the best option.
Your app development partner will be able to consult with you on this and provide a strategic, long-term recommendation.
3. Have a documented implementation strategy
Businesses that simply hand their employees a technical solution and expect them to use it are living in a dream land.
You wouldn't expect customers to use a new product without any kind of marketing or education, so why should you expect it from your employees?
Map out how you plan on making your solution an intrinsic part of your employee's everyday processes and functioning.
This will accelerate user adoption and allow you to realise ROI sooner.
If this solution poses a significant shift in the way your business operates, you'll need to factor in:
Change management processes (training time, for example)
Integration of the application with existing data and back-end infrastructure
Make 1 person in your internal team the 'go to' for all questions regarding the software
Contingencies for any issues that arise with the app's functioning.
Is it essential for managers to be able to easily access and update the back-end? If yes, you'll need a CRM system or supporting web-based admin portal.
The aim of this plan is to reach the holy grail of app user engagement:
To deliver a product so engaging and seamless, that once people use it they could never go back to living without it.
4. Balance your investment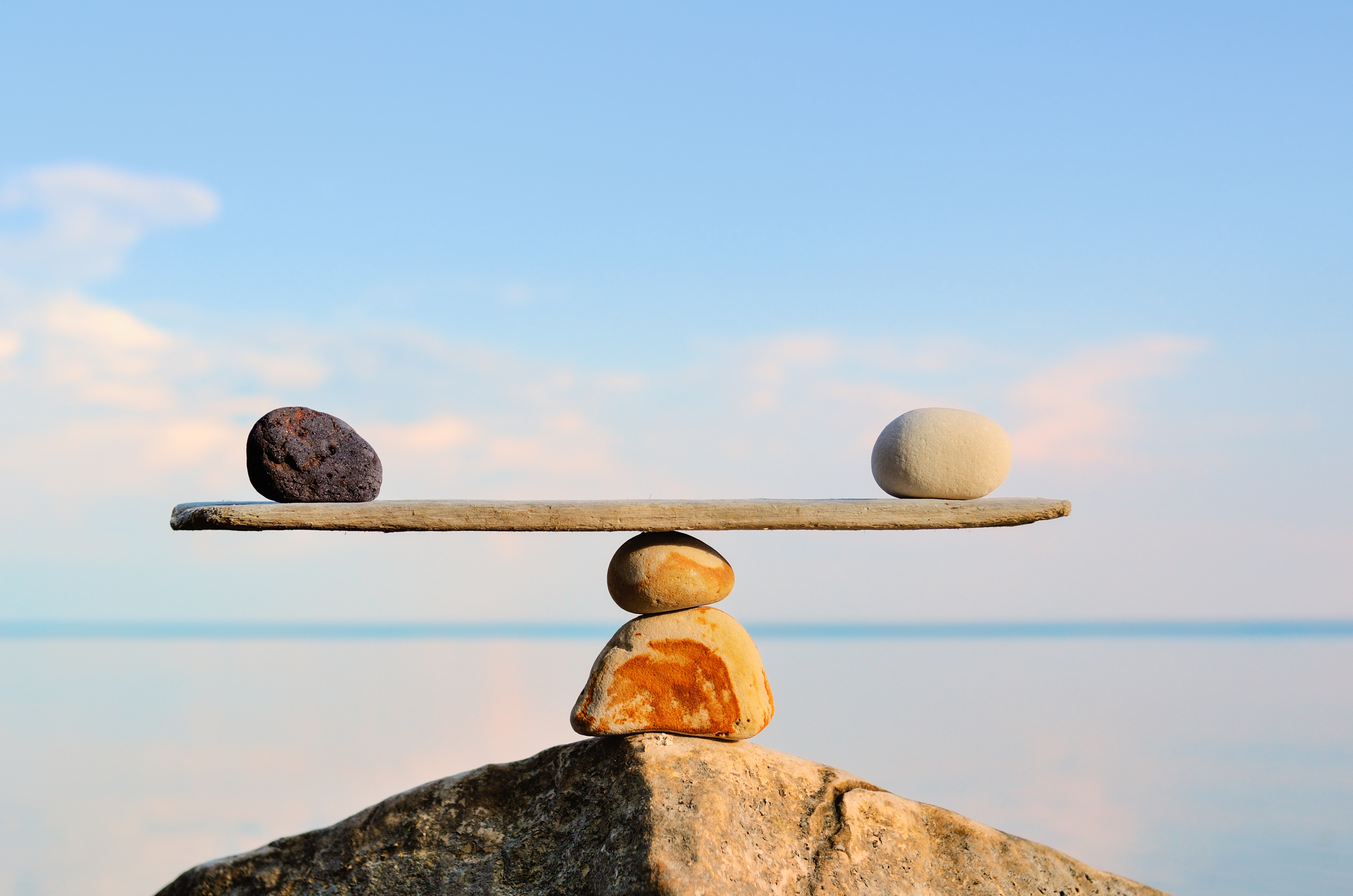 Your mobile strategy shouldn't be treated as a silo.
Digital tools like social media, cloud technology and analytics are complementary to your mobile strategy, not separate.
Research by Accenture found that the companies realising greatest ROI on mobile initiatives were more likely to be balancing their investment across all digital technologies.
Why is this?
Where mobile becomes truly powerful is where it integrates seamlessly with the other tools we use every day.
Aside from the obvious benefit of increasing customer engagement through integration, there are significant synergies to be made from combining these technologies:
New revenue opportunities
Accelerated time-to-market for products and services
Penetration of new markets
Enabling rapid response to customer demands
See also: State of Mobile 2016: Proven Strategies For Mobile Implementation
5. Update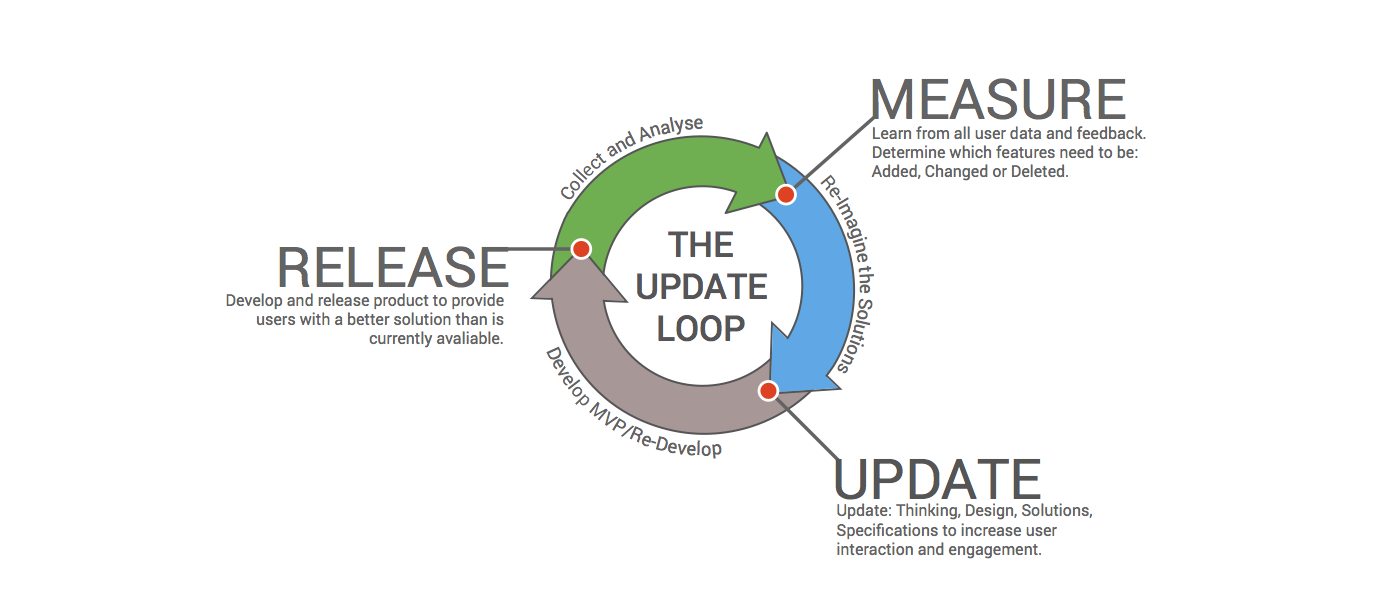 Often the creators of an enterprise app aren't the ones who will be using it.
Just as you wouldn't release a customer-facing app and then leave it to become stagnant, you shouldn't do the same for your enterprise apps.
Your app's first version will not be perfect. Neither will the second version, in all likelihood!
You need to solicit feedback from your employees as well as analyse in-app behaviour analytics.
This data is critical for identifying problems early, making fast iterations and gauging the usefulness of the app.
See also: How To Measure ROI For An Enterprise Application
Have an update schedule for your app that you revisit and revise as needed.
You don't want to be making updates for the sake of it, but just like your website, it needs to be kept fresh and relevant for employees to get value out of it for years to come.
Want to learn how the pros are achieving ROI on their mobile initiatives within 1 year?Download our enterprise mobility report below…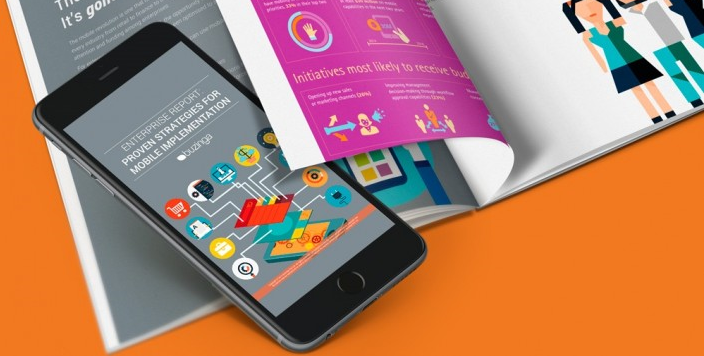 The following two tabs change content below.
Graham McCorkill
Graham is the Co-Founder and Managing Director of Buzinga. With over 25 years of business development and project management experience, Graham's passion for utilising mobile technology to help grow successful business is evident in every project he is involved with.
Latest posts by Graham McCorkill (see all)
https://www.buzinga.com.au/wp-content/uploads/2016/08/trap-2.jpg
359
900
Graham McCorkill
https://www.buzinga.com.au/wp-content/uploads/2017/06/Buzinga-Logo-Old-Small.png
Graham McCorkill
2016-08-17 16:58:17
2016-08-22 13:11:52
5 Tangible Tactics For Building Apps Your Employees Will Actually Use