You've probably noticed that the tech startup scene is blowing up right now.
The only disadvantage? You've got to be fast to jump on opportunities before someone else does.
With so many people running to build apps, competition has never been fiercer and the race to be 'first to market' is more of a sprint than a marathon.
Unfortunately, validating and building apps that truly solve a market need and will continuously engage users is a long process.
But on the other hand, launch too quickly and you risk building an app with bugs, poor user experience and features that customers don't actually want because you never properly validated them.
So how can you strike a good balance between launching quickly, and launching well?
Well, here are 5 'super hacks' to launch your app fast without compromising on quality.
Knowing which tasks you should prioritise and how to carry them out 'leanly' (by that I mean efficiently and with the highest return for minimum money and time spent), you can cut months off your development process.
1. Conduct efficient market research on the app store
Source: Organiksoft
The most important part of launching your app fast is quickly identifying your competitors.
While it's tempting to focus on yourself and your app's features first, you risk finding out months into the development process that a competitor offers the same or better service as you.
If that happens, you'll be forced to go back to the drawing board and delay your launch.
Feature specifications and revenue projections can wait until you've dissected your market.
The first thing to do is open up a spreadsheet.
Start listing out competitors and comparative information you need to analyse.
Not sure what to include? Check out this article: The Ultimate Guide To Performing Competitive Analysis on Apps
Note that I didn't say, "Find out if you have competitors."
Because you will.
Even flying cars face competition from existing 'road based cars', so don't assume that there is no existing solution to the current problem your app solves, even if it is a DIY solution that customers are currently making for themselves.
You need to identify who they are and exploit them for every bit of market insight you can possibly find.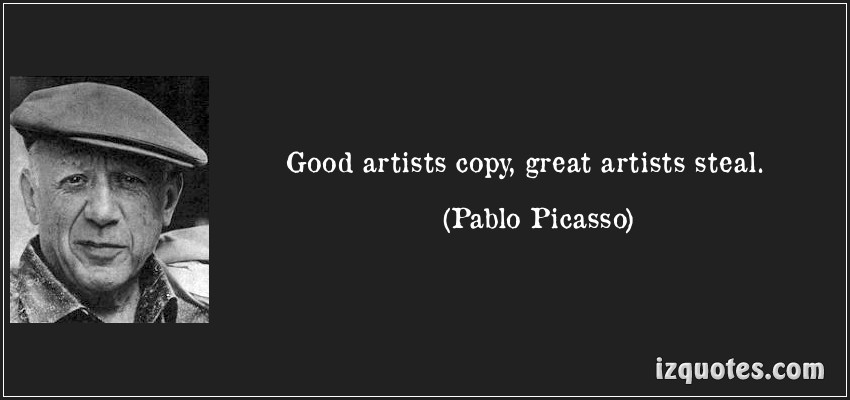 Step 1. Who (and what) are your competitors?
A competitor is defined as "An organisation engaged in commercial or economic competition with others." – some dictionary, sometime (always).
In other words, anyone who is providing a similar or the same service that you're providing, that is an alternative solution to using your service.
OR, any organisation that wants to steal your customers.
Your competitors may not even be a mobile application…
Just the other day I was with a client and we realised that one of their competitors was actually Jim's Mowing!
Get a full understanding of who's competing in your space and write that down in your spreadsheet.
What are they offering?
How can understanding their business model help you design yours to be competitive or an alternative solution in the market?
Not one company in the world is running their business perfectly.
McDonalds, the most successful brand in history, is currently losing money and closing 700 stores this year.
Facebook updates their apps and interfaces to optimize user experience.
Google is consistently (and terrifyingly) releasing new algorithms to improve the accuracy and relevancy of its search results.
There are always ways to improve inefficiencies and use emerging technology to introduce new innovations.
Entrepreneurs have the ability to conceive ideas that never existed before.
Be disruptive in your competitive analysis. Innovation is not confined to a framework.
Step 2. Understand your competitors' products and market advantages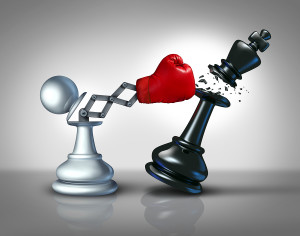 Source: Linkedin
Product features
Identify every product feature that each of your competitors offer.
Penetration and Brand Awareness
From looking at your competitors' web presence you should be able to establish quite quickly if they are a major threat or not.
Analyse your competitors online presence using the following tools:
Web Presence – grab your competitors website link/URL and drop it into the search bar on the Alexa home page. This will give you a visitor traffic ranking where 1 is the best. Anything higher than 800,000 is considered a low threat. That would be about 20 visitors per day…nothing really.
Social Presence – copy your competitors' social media URLs from their actual pages/profiles. Paste it into the spaces provided on Social Site Explorer to see how much their content is shared on different networks. This will give you a full preview of your competitors social media presence.
Rank each of your competitors on a scale from 1-high threat to 10-low threat.
Use the most threatening competitor and the least threatening competitor as bench marks.
This will give you the motivation to get you through the next 6 months (you'll definitely need it, don't think you won't).
Monetisation model
What monetisation model does your competitor use?
Or if they haven't yet introduced one, what do you think their model will be when they finally roll one out?
Do a bit of role play and think about which model YOU would choose if you were in their position, with their current product offering.
There are many unique monetisation models available for mobile apps, so have a look at what's currently working and not working for your competitors.
Brand Positioning
What is your competitor's brand positioning and unique selling proposition (USP)?
How are they perceived in the market?
What unique value are your competitors offering?
Answer questions like:
are they the biggest?
The best?
The most trustworthy?
The best customer service?
You can normally find this out just be analyzing their marketing efforts.
If their USP isn't clearly conveyed, either their marketing team is bad or they don't have a USP. Either way, this is a weakness you can take advantage of!
How are your competitors' applications faring on the App Store?
Use Sensor Tower to identify which keywords your competitors are ranking for.
This will not only shed some light on their USP, but will also give insight into which keywords you have the best chance at ranking highly for.
What is the average user rating on the App Store for the current version and all versions?
If your competitors have straight 5-stars then look at how new they are and how many versions they've gone through.
This is a chance for you to identify opportunities for development and features.
Check out in settings the support and feedback section. Here you will find complaints about particular features, bugs and improvements that your market is asking for.
This also poses an opportunity for 'ideas-stealing'. Hehe.
2. Use Free Online Tools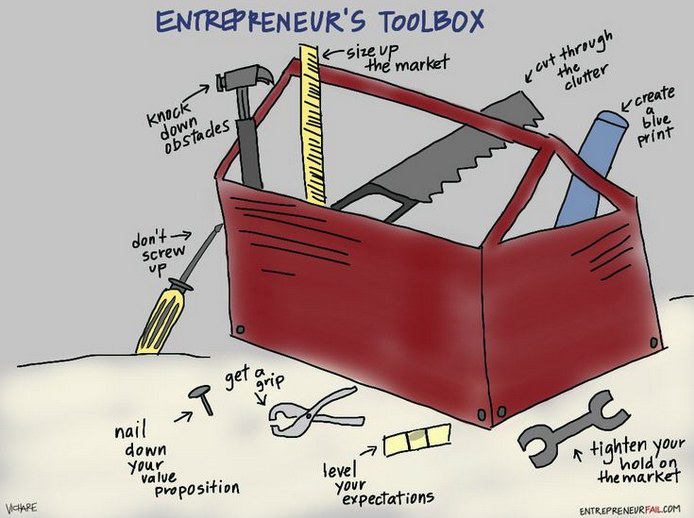 Source: Drlongnecker
The internet is a vast treasure trove of resources for startup entrepreneurs, but most people aren't getting as much benefit out of it as they could be.
When trying to launch an application fast, you're going to be forced to get out your comfort zone and perform tasks that you have zero experience in.
Web designer, research analyst, social media guru, project manager…An entrepreneur needs to wear lots of hats!
Make sure you check out 16 Must Have Free Tools For The Startup Hustler for a list of the top online resources and apps to make you smarter and faster at these tasks.
Here are some highlights you should definitely check out to launch faster:
Use tools like the Google Keyword Planner and SEMrush to look at the number of people searching for your service online.
Build a landing page using Instapage and use social profiles to drive traffic to see if there is any interest for your product.
You can build a mobile responsive, high-converting website in minutes!
Include a brief description of what you'd like to build, and create a data collection funnel to gather emails.
Use Canva to design high quality images for newsletters, presentations, social media posts and more.
Use Survey Monkey to download a customer feedback template and streamline the user feedback process
Being resourceful has never been easier in the internet age, so ensure you're taking advantage of every tool at your disposal.
You'll save yourself a lot of time and money hiring professionals for tasks you can easily do yourself!
See also: What You Didn't Know You Could Do With Google
3. Approach a specialized mobile app product designer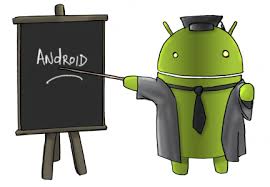 Source: 1mobile
I highly recommend that you start approaching professional mobile product designers before you spend two months planning your business model.
Professionals are trained and educated in understanding the global mobile market, and can help you validate your idea faster based on their knowledge of what has worked in the past and what the market wants in the future.
See also: Should You Build Your App Yourself? 5 Things You Need To Know First
The best mobile product designers in 2015 have a university degree and at least 3 years of pure mobile app experience.
By the way…If you'd like access to a pretty good mobile app product designer or find out how much they cost, feel free to email info@buzinga.com.au. 
Outsourcing your app development overseas might seem like a cheaper option, but much more often than not you'll waste thousands of dollars.
You won't get the outcome you need to build an intuitive, engaging product and you'll find that what you DO want will be lost in translation and communication barriers.
I speak on behalf of the 5 clients we are working with at the moment who've lost tens of thousands of dollars in wasted offshore app development.
As an entrepreneur, your time is billable and valuable. Anywhere you can save time communicating is saved money in the long term.
What you need to focus on is getting a minimum viable product (the product you can build in the shortest amount of time that will generate maximum revenue) on the market in the most efficient (not fastest) way possible.
Product design first…
If you have competition chasing your tail and a market reaching maturity, you don't have time to fluff around with Profit & Loss statements and long-term visions.
Dive straight into product design.
Product design is essential to producing a minimum viable product.
Professionals will be able to strip your grand idea back to the bare essentials that will satisfy the market – The result will be a product that investors can see is feasible.
They will be able to deliver a fully functional development document that includes UI concept designs, a working prototype, UX designed engineering framework and all the back-end infrastructure that us simpletons cannot comprehend.
Secret Tip: Sketching wireframes is not product design…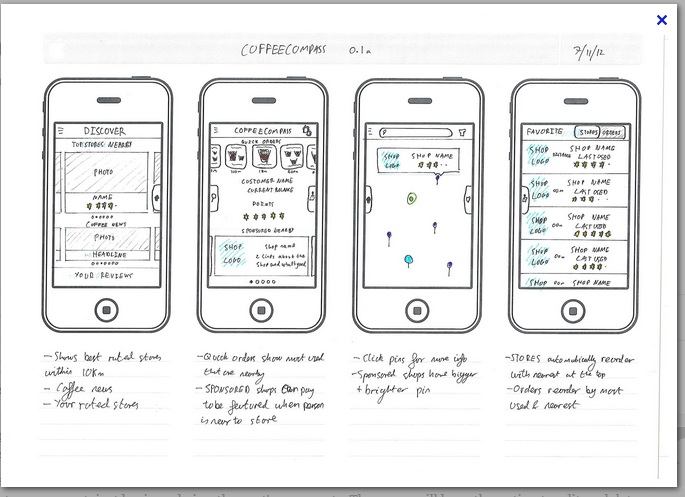 Source: Phmtierney
4. If your developers are working, you're working.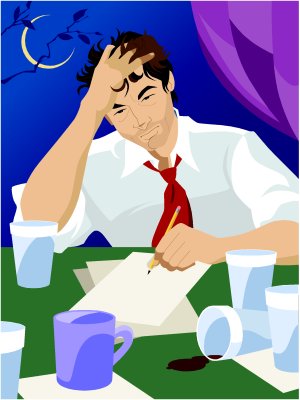 Source: Ulrichsossou
Don't ever think that you can't make any more progress until you get specs back from your designers.
There's always something you can be doing!
While the product designer is working with you to scope out the features and functionality of the app, start fleshing out your business plan and information memorandum.
In the product design process, your input is of course needed, but the hard work is looked after by the pros.
Use these 6-8 weeks to really plan your business strategy.
Talk about an efficient use of time!
So far it's only been a few weeks since you committed to your idea and started your market research!
Take your time here and put together risk management strategies, profit and loss statements, income trajectories, marketing strategies and investment pitches.
Head straight over to Aus Gov to download the business plan templates.
A business plan is the most powerful weapon you have to getting outside funding from investors, so you're going to need these 6 weeks to really highlight the investment opportunity.
It need to clearly illustrate how if the investor puts in $1.00, they'll get $1.20 back.
After you've put this document together, you'll stop looking at your app as a product and think of it more as a business – your own startup baby.
5. Release a minimum viable product to the market and gather feedback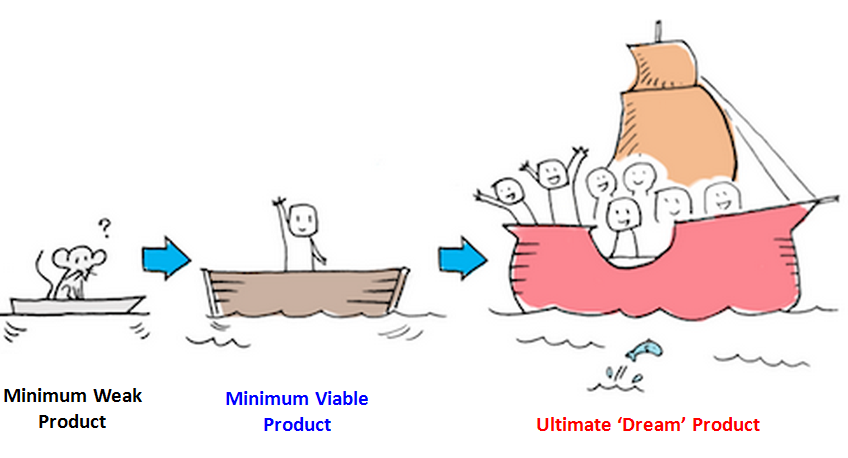 Source: Transform Customers
You need to get your product on the market as fast as you can so you can start gathering data for improvements and projections.
This means not dawdling after the delivery of your product design.
I often find in this industry that when people get to this stage, they won't commit to funding the development process.
They believe they have an innovative idea that is going to change the world, but they won't do a thing about it unless they have external investment.
I watch again and again, as great, truly inspiring ideas, just disappear.
Poof. Gone forever.
And I can't do a thing about it as I'm under a non-disclosure agreement.
Ask yourself this question…
If you were an investor, would you believe in someone enough to give up $100k to invest in their idea if they aren't investing in their own idea?
It's strange that we will happily hold onto our own savings but beg investors to give us money for a small piece of the pie.
If you haven't emptied your own bank account to deliver a product you believe so deeply in that you'd be happy to risk a strangers money, then is your idea really that good?
This shouldn't cost you more than $100k if you're building a simple product with built in capabilities for scaling.
Our society is so fast to borrow or spend that kind of money on a car, that depreciates in value and offers no form of future income…
But we aren't wired to ask banks for investment or willingly invest our own money into something that we believe will give us a projected income and appreciate in value as our businesses grow.
Weird huh?
See also: Reality Check: Why Tech Startups Should Put Off Raising Capital
Here's what you need to do before you go out seeking investment:
Incorporated your company
Commissioned your team with a mix of tech, marketing and sales skills
Done preliminary market research and competitive analysis
Set up a domain name
Made business cards
Created a website
Created a MVP or prototype
Found your first users
Then go out and pitch to investors to release that grand app with 1000 features that you know will change the world.
It'll be a lot more convincing than going to an investor with an idea and some wire frames, asking for $100,000 just to start.
Building an app will always have unexpected bumps and setbacks along the journey.
But by being smart and focusing on the things you CAN control, you can dramatically speed up your time to market and keep the momentum going after launch.
The following two tabs change content below.
Logan Merrick is the co-founder and Director of Buzinga, as well as one of Australia's most recognised entrepreneurs, keynote speakers, investors and mentors. His writing on startups, technology and mobile marketing has been featured in The Australian, Business Insider, Startup Smart, Smart Company, and more.
Latest posts by Logan Merrick (see all)
https://www.buzinga.com.au/wp-content/uploads/2015/08/app-launch-hack.png
351
899
Logan Merrick
https://www.buzinga.com.au/wp-content/uploads/2017/06/Buzinga-Logo-Old-Small.png
Logan Merrick
2015-08-18 01:29:10
2016-12-19 16:11:49
5 App Launch Hacks To Speed Up Your Time To Launch