In this founder interview series, we rounded up some of Australia's most successful entrepreneurs who have scaled their startups into national and even global success stories.
We picked their brains on their biggest achievements, challenges and tips for startups!
Check out our first interview with Matt Bullock on how he built an international business accountable for processing 1 in every 4 dollars spent online in Australia.
NATHAN CHAN
Nathan Chan is the Publisher and Editor in Chief of Foundr Magazine, an Australian online magazine for entrepreneurs and innovators.
Nathan started Foundr Magazine while working a full time job in 2013, and within 15 months it had grown to 100,000 subscribers and listed in the Top 10 'Business and Investing Magazines' on iTunes.
Enjoy the interview!
What advice can you give startups who are building a business while still working a full time job?
You have to pay the bills.
It's extremely hard to work on your side hustle and do your full time job, but sometimes you just have to do what you have to do.
Especially when you first start out and you're starting from scratch, you have no connections. No paid customers. No one caring about your product or service that is going to change the world.
The best thing you can do is focus on your business, and have some cash coming in to pay the bills while you get things up and running.
Would you recommend this to entrepreneurs over focusing sole energies on their business?
It really depends on your situation.
If you have a decent amount of savings in the bank that will allow you to be supported for at least 6-12 months while you make it work, it can be beneficial to dive right in to.
The hard thing is, it doesn't always work!
Bonus: 5 Startup Lessons Every Entrepreneur Must Learn
Who is the most surprising or insightful person you have interviewed in your time at Foundr and why?
Gary Muller – He started a BnB in the Hamptons. This was just an amazing conversation of great stories with someone that is trying to disrupt the hospitality industry.
What marketing tactics did you use to get the word out about Foundr when it first launched?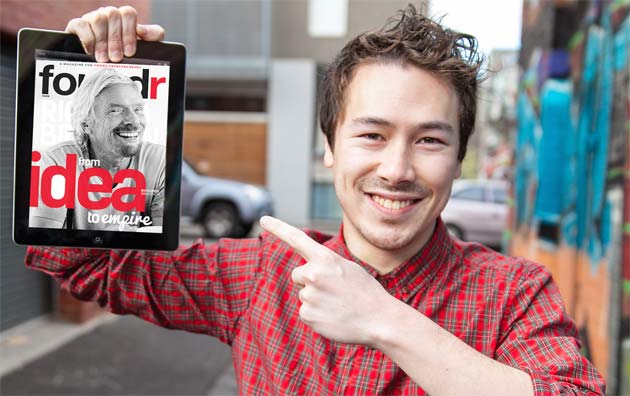 What opportunities and challenges do you see coming up in Australia's startup business scene in the next 5 years?
I think there are nothing but opportunities to come.
As time goes on the government will look towards supporting startups a lot more I think.
See also: Why Malcolm Turnbull Is The Best Excuse To Build A Startup Now
What's the next step for Foundr in 2016?
Keep doing what we're doing in terms of content, except scale it up.
Also, we are going to produce a lot more product to further cater to our audience's problems, frustrations and desires.
What's your productivity secret?
Moving the needle every single day towards my goals.
Also, outsourcing / delegating / using automation technology to find as much leverage and time as possible.
Even though you've already interviewed Tim Ferris and Tony Robbins (total guns), is there anyone else on your bucket list you'd want to interview?
Elon Musk, Mark Cuban, Oprah, Sheryl Sandberg!
So many amazing rockstar entrepreneurs we've yet to feature!
Any quick and dirty last advice for wannabe entrepreneurs just starting out with their businesses?
Focus. Focus. Focus…. It's the most important thing.
Far too often, new to the game entrepreneurs suffer from 'shiny object syndrome'.
Too many ideas, working on too many things. Not enough shipping.
Where to go next
Startup Founder Series: How To Take Advantage Of Emerging Market Trends
Startup Founder Series: How To Manage A Global Team And Work Anywhere
The following two tabs change content below.
Logan Merrick is the co-founder and Director of Buzinga, as well as one of Australia's most recognised entrepreneurs, keynote speakers, investors and mentors. His writing on startups, technology and mobile marketing has been featured in The Australian, Business Insider, Startup Smart, Smart Company, and more.
Latest posts by Logan Merrick (see all)
https://www.buzinga.com.au/wp-content/uploads/2016/01/nathan-chan-2.png
358
899
Logan Merrick
https://www.buzinga.com.au/wp-content/uploads/2017/06/Buzinga-Logo-Old-Small.png
Logan Merrick
2016-01-26 23:49:38
2017-06-30 06:21:57
Startup Founder Series: How To Start A Successful Business Without Quitting Your Day Job