One of the most important aspects of successful mobile application development is design.
Simply because people are drawn towards attractive graphics. Users also appreciate mobile apps that feel as though they were designed expressly for the device, which means the proper implementation of the Human Interface Policies are an absolute key to great mobile application development.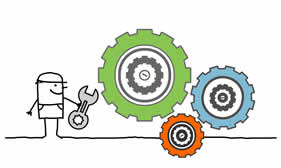 We are seeing a trend moving towards depth in the design brought on with the use of clean cut graphics, sharp lines, smooth shadows, and bold primary colours that make for a really professional and user friendly look.
User Interface / User Experience
Another key factor to remember in mobile software development is: "Less is more". Amateur mobile application developers may try to cram as much into every screen as possible, however this can be counter-productive when a busy 'User Interface' makes the mobile application hard to use and often just ends up frustrating users. By reducing the stress on the screen, users will find an application easier to use and because of this, use it more often (repeat usage).
Apple provides a guide to their Human Interface Policies. It is designed to assist in the development of iPhone Applications. This makes it harder to have a mobile application approved by the iTunes App Store than it is for the Google Play Store (Android app store) and others. This is why at Buzinga Apps, our policy is to adhere to best practise for design and user interface in the Apple guidelines to ensure our mobile applications will be easily developed across multiple platforms (iOS, Android, Windows, Blackberry, etc.) should that be your plan.
In addition to Design and User Experience, it is also really important how the software is coded for your mobile application. Complex messy code can mean that bugs may be difficult to fix. Also, identifying potential future functionality at the beginning and making allowance in the code can save up to 25% of future upgrade development costs.  
While our coding teams have had many years of experience, they are always retraining and keeping abreast of the latest innovations. We have four teams, each specialising in the development specific types of mobile applications including business, utility, productivity, entertainment, social, games and even augmented reality apps. 
Whether it is an iPod, iPad or iPhone application you need or even an Android applications, you can be confident in the ability of Buzinga Apps to get your mobile app built on time, on budget and into the App Store or Google Play with minimum fuss.