Many small businesses and startups grapple with Facebook as a marketing channel.
They know that Facebook is a powerful marketing machine that is just waiting for them to take advantage, but it's also a beast –  it can be daunting just to get started.
It's  helpful to have a point of reference when putting together your own Facebook ads for your app.
A fantastic case study in this arena is Wooplr. Wooplr is a community of a million fashionable women, who bring you the best in women's fashion for clothes, footwear, makeup & accessories.
Wooplr is a perfect example of the impact an intelligent, thoughtful Facebook campaign can have on your app downloads.
Their app had been around for 2 years before they started dabbling in Facebook ads…
Wooplr's Facebook goals
Drive at least 2,000 daily app installs from Facebook.
Ensure they were the right people that would engage and stick with the app, minimising first-session churn rate.
The end results
200,000 app installs in 3 months
25% increase in month-on-month installs
2 X increase in app engagement after 3 months
20% higher app engagement rate than other ad platforms
Wooplr's Facebook ad strategies
Mobile App Facebook ads for installs
Wooplr used two ad formats of video and carousel. Clicking on either of these ads takes you directly to Wooplr's app store page to install the application.
The carousel format allowed it to showcase multiple images in a single ad. It's perfect to show a series of looks and ideas or a range of benefits all for the price of one advertisement: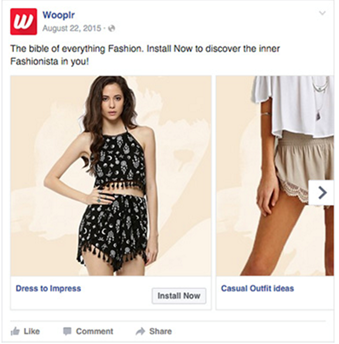 And here is Wooplr's Facebook video ad…
The company mapped out its audience and used interests targeting to reach people with diverse interests with a range of formats and targeted creative.
The ad copy encouraged women to discover their inner fashionista and emphasised how Wooplr makes shopping fast, fun and convenient.
They also set up retargeting advertising.
This type of advertising ensures that potential customers aren't going to waste!
The ad follows those that clicked on it, but who decided not to install the application. This significantly improved Wooplr's ad conversions within its already well-defined audience.
Segmentation
Wooplr intelligently created several different advertisements based on the audience segmentations.
For example, the ads that were targeting 25-30 year old women that lived in the inner city displayed chic and on trend designs.
By contrast, when speaking to older women, the tone of the advertisements was a lot safer and the designs shown stuck to more classic fashions.
See also: How To Use Facebook Ads To Ensure Your Mobile App's Success
Timing
Wooplr was insightful in recognising the various large events happening in their targeted cities.
They leveraged this with seasonal and well-timed advertisements as they knew their audience would be planning for these events.
This included music festivals, New Years Eve and religious holidays.
"Facebook has been our top acquisition and engagement channel from the very beginning. Facebook provided the most unique features and diverse options to reach out to our exact audience, in the most relevant way. With help from Sokrati, we've consistently acquired the highest quality users and kept our cost per install well below the targeted range." –Praveen Rajaretnam, Co-founder & Chief Marketing Officer, Wooplr
When you start implementing your own Facebook app install ad campaign, don't feel like you have to copy what everyone else is doing.
The best advice I can give you is to invest in knowing your audience deeply, so you can create Facebook ads that really resonate.
Use Wooplr's best practices and take advantage of Facebook's rich media and sophisticated targeting options.
Then test, monitor and improve!
Do this and you can pretty much guarantee a return on your marketing investment.
Curious how Facebook advertising can work for your app? Click here for my 5-step process.
The following two tabs change content below.
Maxwell Hertan
Helping businesses grow is what drives Max. As the Founder and Director of Megaphone Marketing, his focus is on delivering data driven results, ensuring every client has the highest return possible.
Latest posts by Maxwell Hertan (see all)
https://www.buzinga.com.au/wp-content/uploads/2016/06/wooplr-banner.png
358
904
Maxwell Hertan
https://www.buzinga.com.au/wp-content/uploads/2017/06/Buzinga-Logo-Old-Small.png
Maxwell Hertan
2016-06-15 02:09:55
2016-07-21 13:13:35
How Wooplr Got 200K App Installs In 3 Months Using Facebook Ads