18.02.16 marked the event of Buzinga's second Pollination event: Pollinate Melbourne 'The Secrets of Capital Raising.'
Held at The Apartment on Little Bourke St, hosting over 200 attendees, the goal for this event was to provide Melbourne's innovation community with actionable skills that they could take away to assist them with raising funds.
For access to the entire presentation slideshow from start to finish please click here.
See below for access to our speakers video presentations.
Thank you to everyone who came down, we hope to see you at our next event!
Why The Secrets to Capital Raising?
The simple fact is; ALL IDEAS NEED FUNDING!
While a convincing business plan and pitch can sell investors on your business idea, you are also going to have convince those investors that you are worth investing in.
It's as much about whether you and your collaborators are the right people to pull off the plan as it is about the viability of your business idea.
With our Prime Minister's passionate appeal  for us to embrace innovation, with tax incentives for investors, this is a fantastic time to find support for great ideas.
Our aim for this event was to de-mystify the process of finding the money you need to fund the development of your idea…
We've found that many great ideas have been swept back under the rug because the idea of finding funds for a new business venture is not a concept we are taught at school.
The solution to the price-tag associated with many ideas in the tech innovation space space is often "No, we just want the MVP, isn't that only $10,000?"
A lot of people we speak to have a preconception that an MVP should cost less than $50,000, or $60,000.
An MVP means minimum viable product.
There's no price tag associated with that.
The idea of an MVP is to go to market with the absolute minimum viable version of your product.
So what does that look like? And what does it cost?
It will cost…whatever it takes.
Don't try to do it on the cheap by half-arsing a project.
Do it right.
The speakers from this event aimed to address different ways that startups can raise funds, hearing from a VC, Crowdfunding expert, Government Advisor and a startup who has done it all.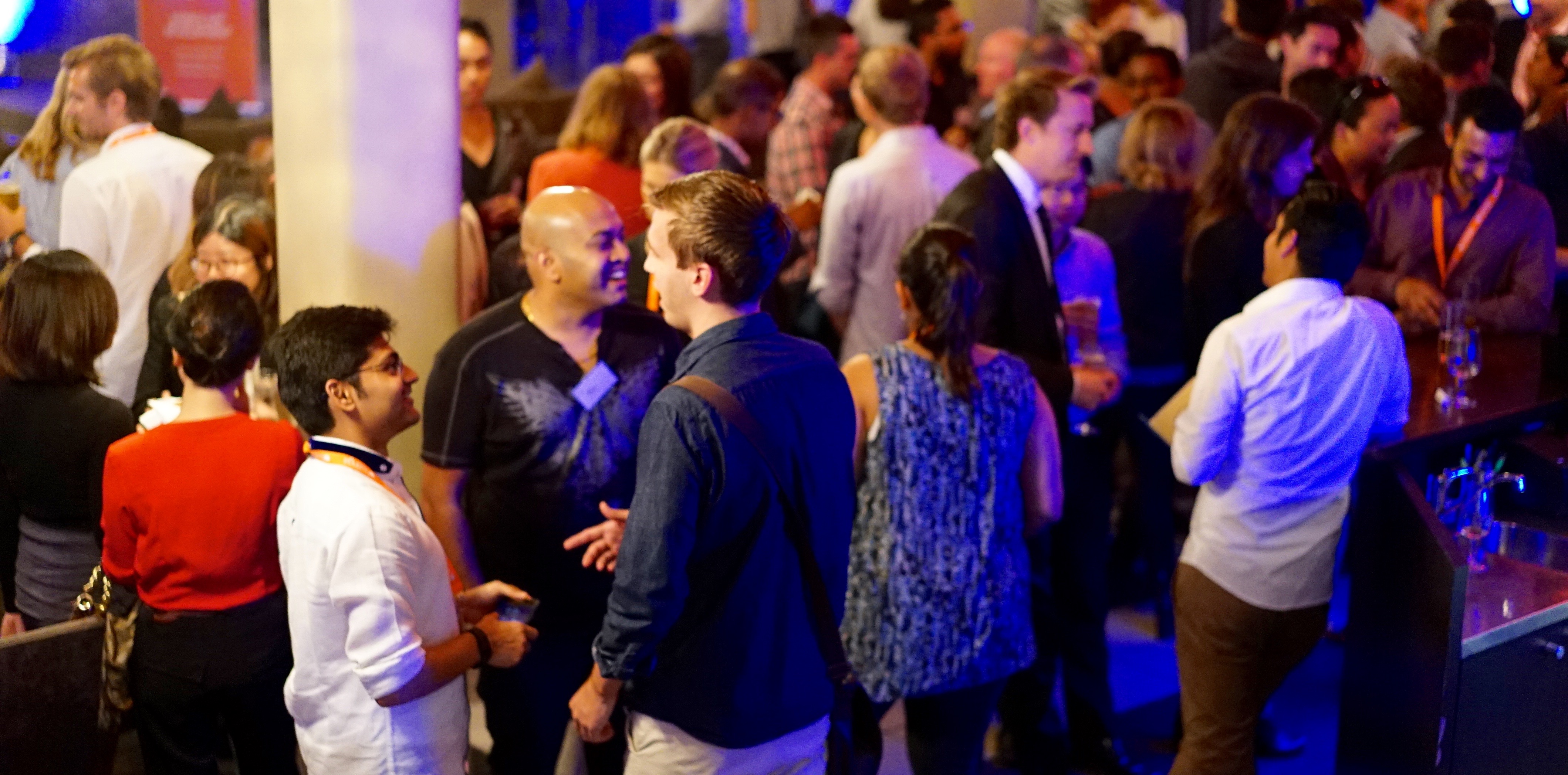 Our Speakers
Richard Webb: StartMesh VC Investor

Insider Startup Investment Tips From Venture Capitalist and Global Accelerator StartMesh
Joe Barber: Commercialisation Advisor for the Australian Government.

How To Get Startup Grants From The Australian Government
Alan Crabbe – Co-Founder of Pozible
How To Use Crowdfunding To Raise Funds For Startup Mobile Applications
Lee Hardham – Founder of Bumbl

Learn how this daring entrepreneur raised over $1mil in funding before launching a product.
Why Pollination?
As an organisation Buzinga App Development is incredibly passionate about innovation and change.
What we have come to know is this:
Innovation and global change doesn't come from governments, and it doesn't come from the corporates. It comes from when smart individuals from different backgrounds come together and form big ideas.
About 6 months ago we realised that there were many startup events happening here in Melbourne.
Almost every day there's another Startup event. Which is great. The more the merrier.
However, we felt that the events were mostly centered around sitting and listening to a rich dude or lady who's made it big, telling aspirational stories of how they got to where they are.
And we thought that was really cool especially for the people who are new to all this.
But what about the people who are ready to get started now or have already started? They don't need inspiration. We're here! We're already inspired!!
What we need is information that we can actually use.
We felt that the best way that we could serve the startup industry was to create an event to bring together the right people from technology background, marketing, academia, government and corporates to 'pollinate' the Australian startup ecosystem with the right information and support network.
If you'd like to be part of our community please head to our Meetup group and join up!
Must read next:
Insider Startup Investment Tips From Venture Capitalist and Global Accelerator StartMesh
How To Use Crowdfunding To Raise Funds For Startup Mobile Applications
How To Get Startup Grants From The Australian Government
The following two tabs change content below.
Katelyn has nearly a decade of experience in sales and customer service management. Working with some of Australia's leading brands, she understands from the front-line the fundamentals of creating a successful marketing strategy to attract and retain loyal customers; a key goal for the launch of any new app.
Latest posts by Katelyn Duckworth (see all)
https://www.buzinga.com.au/wp-content/uploads/2016/02/Untitled-2.jpg
359
900
Katelyn Duckworth
https://www.buzinga.com.au/wp-content/uploads/2017/06/Buzinga-Logo-Old-Small.png
Katelyn Duckworth
2016-03-17 01:35:14
2016-05-02 00:22:48
The Secrets To Capital Raising