The steel transport industry is an essential part of the Australian economy, and BlueScope is one of the oldest and leading companies supplying flat steel products in Australia, New Zealand and the US.
Large trucks transport tons of flat steel products to construction sites, often over hundreds of kilometers. 
Many of these individual steel products which are transported out of the BlueScope sites weigh several tons and because safety is paramount, the way each load is restrained for the journey is critical.
BlueScope have been at the leading edge of load restraint for steel transport for years –  They were instrumental in establishing of a set of 'Load Restraint Guidelines' which were adopted by the wider industry as the standard.
In 2014, it was considered that the process of load restraint for steel transport could be made safer and more efficient for drivers. by creating a new digital solution to replace some of the existing manual systems.
This solution would be for all stakeholders of the steel transport process.
Drivers would be the primary users, but the BlueScope mobile app would also need to provide value and additional transparency for other steel trucking and construction companies where much of the steel is delivered.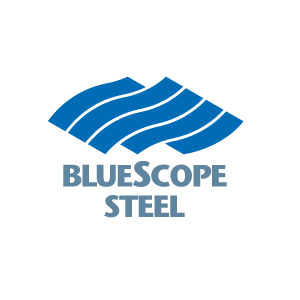 The Requirements
BlueScope's primary objective was to build an intuitive, easy-to-use tool that would improve the safety and protection of all parties involved in the end-to-end process of steel transport.
By taking advantage of the fact that almost all drivers currently own a smartphone, the key aims were to create a product that would:
Give Australian truck drivers quick access to load restraint guidelines
Provide a helpful guide during the restraint process
Provide a simple in-app process for recording photos of the restraints for each load
Provide drivers with current information about site locations with real-time notifications
The Pitch

BlueScope presented the idea of a load restraint mobile app to the entire steel transport industry at the  2014 ALC Supply Chain Safety & Compliance Summit.
There was immediate support for the initiative.
Positive feedback from industry stakeholders as well as data collected from live audience polling gave BlueScope the support it needed to back its pitch.
BlueScope approached several app development companies to propose what the mobile application would look like, and eventually chose Buzinga App Development based on their thorough, structured processes and passion for the potential of the idea.
Buzinga worked with the Bluescope team for several months to create a detailed Prototype and Project Scope Document which specifies all features and functionality that would best meet the key requirements list.
Armed with the project scope documentation, BlueScope secured funding quickly via a cross-business initiative with Toll and K&S, two major transport and logistics companies operating in Australia.
The 3 firms sponsored the first phases of development in return for exclusive 6 month access to the beta release in December 2015.
The Solution – SteelDrive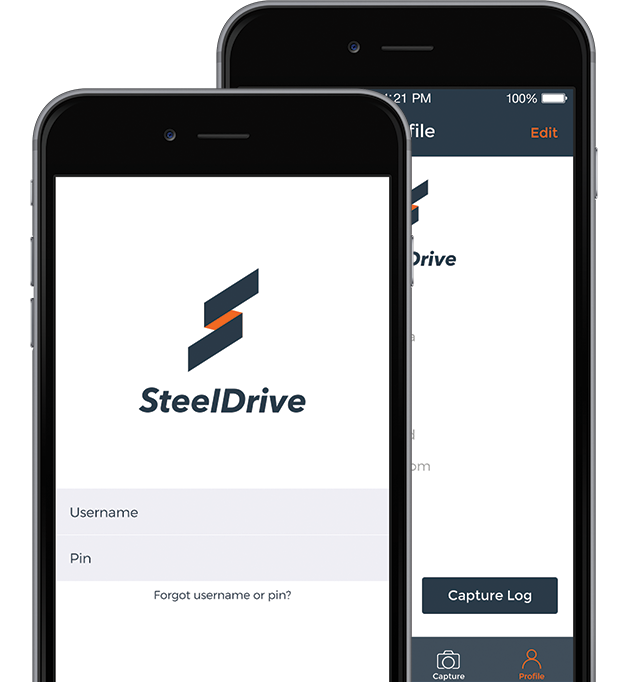 After stripping the solution back to the essential core features that would be delivered in the first Minimum Viable Product (MVP) release, the proposed solution was presented:
A mobile app called SteelDrive, which will be given to the overall Steel Transport Industry and administered by the Australian Steel Institute (ASI).
For the first release, the solution consists of 4 main functions:
Site locations – Detailing directions, access points and notification feature for site location updates
Load restraint guidelines – The complete guideline catalogue in portable form as a quick reference for drivers while restraining their loads
Photo capture- For drivers to capture and record photos of the restraints they apply to each load
Profile – Each driver has their own personal login with details of their previous jobs, vehicles, locations and photo capture log
To support the management of the safe steel transport app, a web-based admin portal was also specified and is in the process of development.
This allows companies to manage site location information, employee, contractor and job details as well as the catalogue of up to date restraint guidelines.
Why Minimum Viable Product?
For any large enterprise, delivering a tech product that meets key performance indicators is of utmost importance.
But what often happens to enterprise apps is they are bloated and overly complicated – they go way over budget and over time.
The idea behind releasing a MVP first is it allows BlueScope to launch a lean product (core functionality only, no fancy features) into the market and then gather feedback and data for version 2.
This minimizes the risk of building a hugely expensive, time-consuming product with every possible feature included, only to realise that some features don't add value.
SteelDrive will launch its beta release in December 2015.
Initially the system will be trialed by Toll and K&S, two major Australia transport and logistics companies, each of which are contributors to the initial development.
The aim is to validate all the assumptions made during the Project Scope Phase and ensure the app is adding value to the drivers – who are its primary users.
After initial release, BlueScope will follow the Buzinga process of the Release/Measure/Update Loop shown below.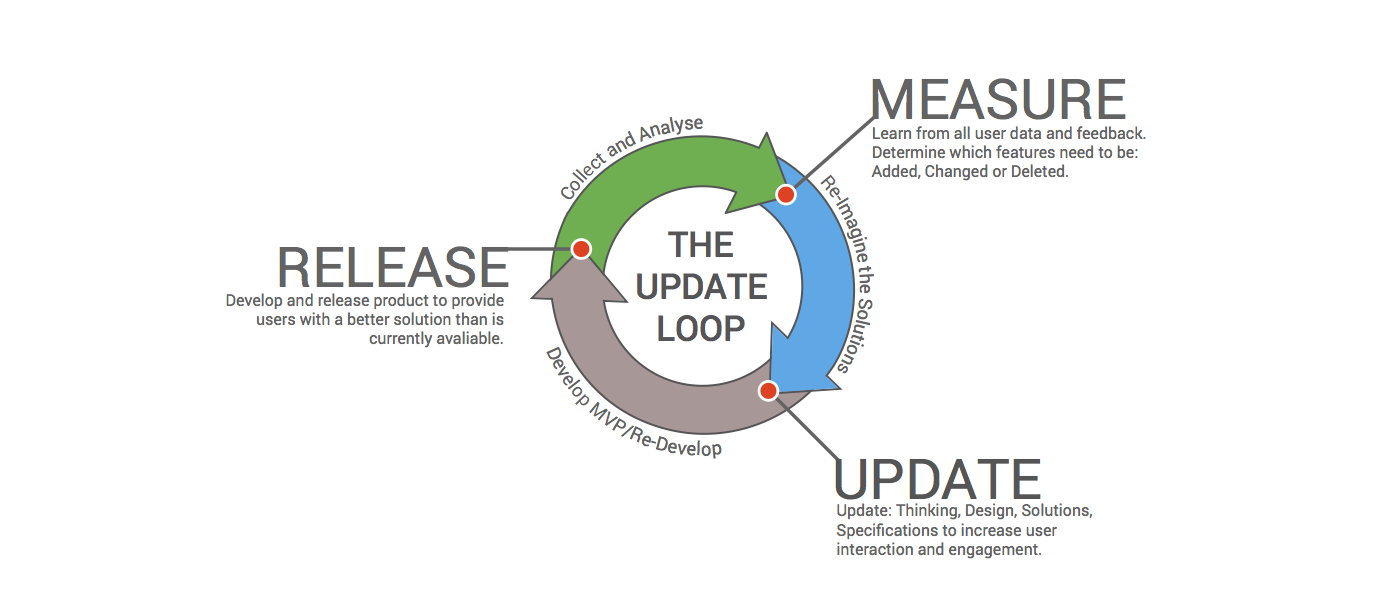 The Update loop
This process allows all metrics and feedback to influence product updates to ensure user engagement is always increasing.
User engagement is one of the best measures of a successful digital product, and an important metric for developers to monitor.
What should you be tracking?
Users' favourite features
What features are not being used
Where they drop-off in the process
Where they struggle in the sessions, to show where UX can be made more intuitive
By analysing these features, BlueScope can understand which features of the app are most valuable to drivers.
They will also be encouraging drivers to give feedback about the usability of current features as well as suggestions for additional features. Check out 10 Most Popular User Feedback Tools For Mobile Apps for insights on how to pick the best service for you.
How long does the loop take?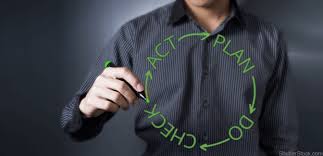 The Update loop can take anywhere from 30 to 120 days depending on the complexity of the app, number of users and budget.
For SteeelDrive, there is a 26 week period scheduled to test beta versions of the app.
It is anticipated there will be at least 2 Update cycles during this test period, after which an updated 2.0 version will be proposed to the industry.
This will give users enough time to become familiar with the app and settle into a regular pattern of use, which BlueScope can draw statistically significant conclusions from.
At the heart of the update loop is the 'lean' approach to software development.
Despite being a large enterprise, BlueScope is able to capitalize on the fast-moving, cost saving advantages of a much smaller business.
The Buzinga update loop allows for agility in developing a constantly improving tech product.
Original assumptions are validated, and new specifications for updates are based on hard data, real user/market interaction and feedback.
This means that app updates are released in fast 'Sprints'.
At the end of each update round, the product will be re-released with a new set of potential outcomes to be measured and analysed, allowing the cycle to be repeated in a never-ending state of improvement.
It is hoped that once the app reaches maturity, its partners will see increased safety practices, noticeable reductions in costs associated with outdated manual processes, efficiencies in accident assessment and even lives saved.
Ultimately, this keeps BlueScope and the Australian Steel Industry at the forefront of selling Australian innovation and technology to the Asian and global markets.
The following two tabs change content below.
Graham McCorkill
Graham is the Co-Founder and Managing Director of Buzinga. With over 25 years of business development and project management experience, Graham's passion for utilising mobile technology to help grow successful business is evident in every project he is involved with.
Latest posts by Graham McCorkill (see all)
https://www.buzinga.com.au/wp-content/uploads/2015/09/bluescope.png
359
900
Graham McCorkill
https://www.buzinga.com.au/wp-content/uploads/2017/06/Buzinga-Logo-Old-Small.png
Graham McCorkill
2015-09-15 02:26:23
2017-03-01 16:14:41
How BlueScope Steel Is Creating New Safety Efficiencies With A Mobile App