Let's face it: it doesn't make sense to spend big cash developing and beta-testing your groundbreaking new app and then releasing it on the app store with no marketing strategy in place.
Unfortunately, this practice is more common than you think.
As the founder of an app startup, you have to wear many hats.
Unless you can spare the funds to hire a marketer, this responsibility generally falls on your shoulders (at least in the beginning).
The top performing mobile apps all have one thing in common: they start building demand and generating buzz at least six months prior to their app's hard launch date.
Today, I'm going to show you how you can leverage inbound marketing to
Turbocharge your app downloads
Retain your current users and turn them into ambassadors for your brand
In this article, I'm going to walk you through the step-by-step process for developing a marketing strategy to expand your user base and build excitement around your app.
This checklist will ensure that every part of your marketing funnel is optimised so you can drive tonnes of new users to download your app – and then retain those users for the long haul.
Before you begin…
Determine who's using your app.
If you've started building your app but have no idea who's going to use it, take a step back and spend time getting to know your desired user.
In order to create marketing materials that will have a significant impact on the size of your user base and your bottom line, you need to know more about your users' demographics, challenges, pain points, and goals.
We'll refer to this set of characteristics as your buyer persona.
By understanding what your potential users need, you can create content that fills in those gaps and become the resource they turn to.
Turbocharge your app downloads
Optimise your website/landing page copy
Optimise your website or landing page copy for keywords your audience is searching for to improve your chances of getting found in search results.
Creating a sleek and memorable website is also essential from a user perspective, as it's often the first point of contact between you and your users.
See also: 9 Steps To Building A Pre-Launch App Landing Page
As people's UI design standards rise, you'll be ahead of the curve if you can create an interesting, aesthetically-pleasing site.
This step also includes optimising your About, Contact, and Services pages so that visitors can learn more about your app, its mission, and the team behind it.
Making this information readable and easily accessible introduces personal and professional elements to your first interaction with your users.
Take a look at what Survey Legend has done with its site for an amazing example of a home page that's simple, informative, and memorable all at once.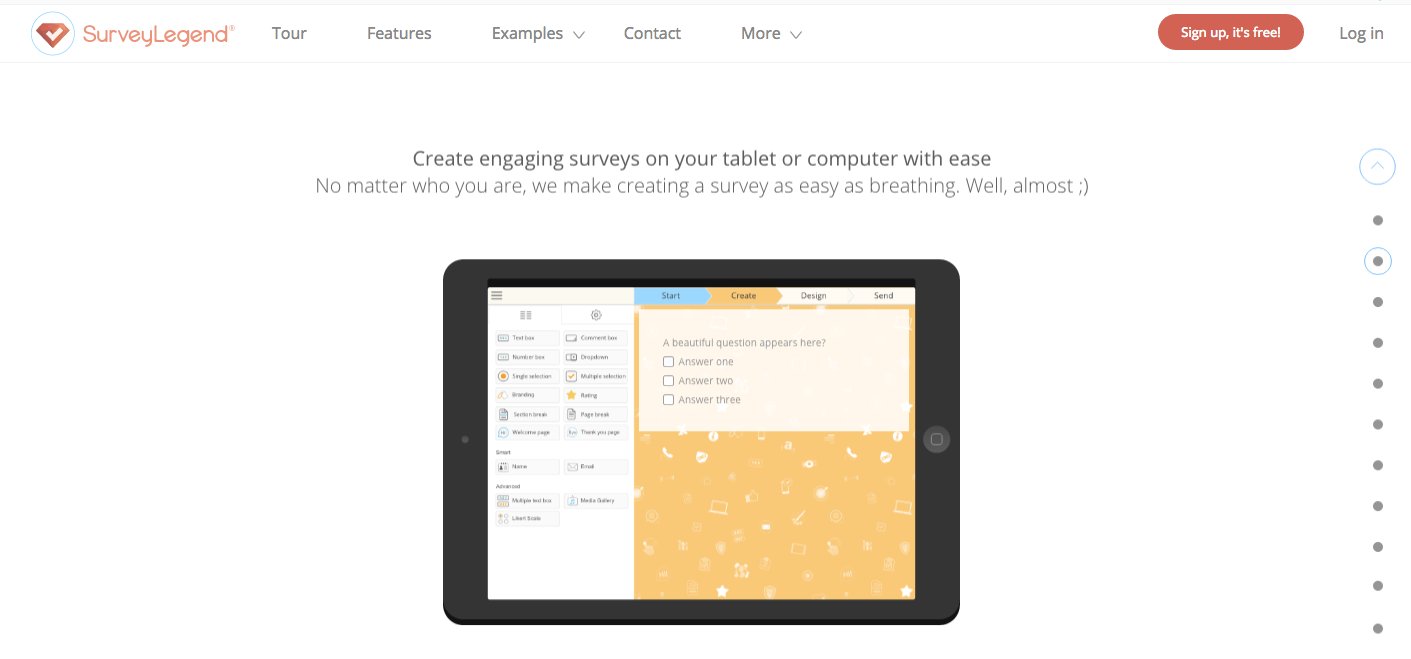 The graphics look good and show off the simplicity of creating a survey using the app. The animations are engaging, and the scrolling mechanism is unique and provides an easy way to see the process of creating a survey.
2. Optimise your content
To turn your website into a lead magnet, you'll need to create content that provides value to your ideal user.
Ask your team what kinds of content your buyer persona wants and needs.
Again, focus on creating content around keywords your audience is searching for to increase your chances of being found in search results.
For example, if your app's primary demographic is university students, writing a blog post about how to create a revision schedule would be perfect.
Whilst it's not directly selling your product, this is something your personas are likely to be searching for online.
Remember, people who visit your website aren't always ready to download your app.
By creating content that's widely appealing to your target audience, you can attract and engage your ideal customer, and introduce them to your product further down the line.
Be sure to mix up your content as well. Aside from blogging, you could create videos, share your company's take on a new meme via social media, stream events or interviews with thought leaders, or build interactive modules like quizzes and games.
Weekdone has done a great job of incorporating several different types of content into their online resources page.
They've posted free templates on their site that provide value to potential users, giving their leads a sense of the advantage their product provides before charging them.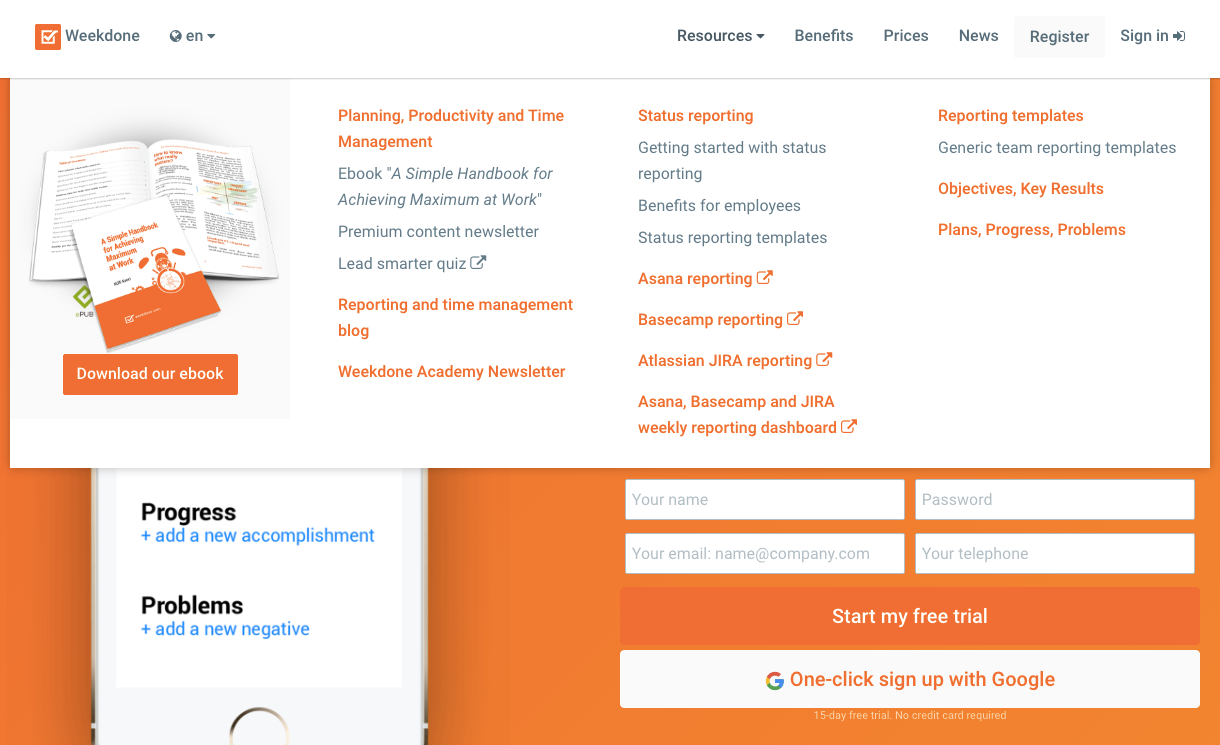 3. Use social media to your advantage
You're on it, your friends are on it, and your audience is on it.
You can't argue with the influence social media and social sharing has on our lives.
You probably discovered many of the products and apps you use through Facebook, Pinterest, Twitter, or Instagram — so take advantage of those channels to share your valuable content.
You can start with a Facebook business page, company Twitter profile, or LinkedIn page, depending on what's most suited to your audience.
Skype does a fantastic job of connecting with its audience on Twitter by sharing content that's interesting to them. It's not product-centric, but rather engages prospective users at the top of the funnel, raising Skype's brand awareness and driving traffic back to some of the content hosted on their website.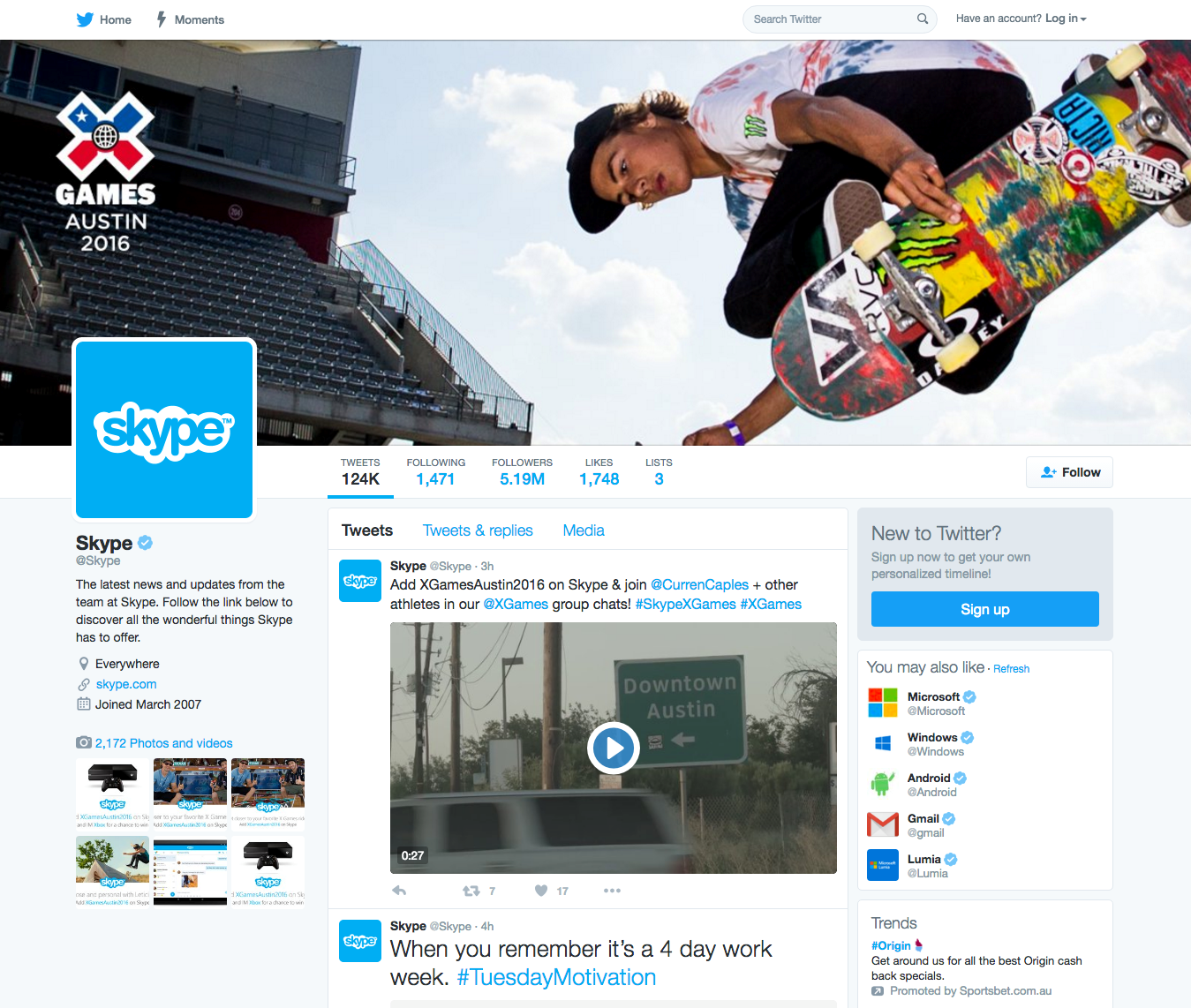 Depending on what your app does, an Instagram or Pinterest account could be relevant for sharing content or communicating your company's culture and mission.
Headspace, a guided meditation app, uses Instagram to share quick tips and statistics with its users. The layouts and colours in their images are clean-cut and soothing, which perfectly aligns with their mission of making meditation simple.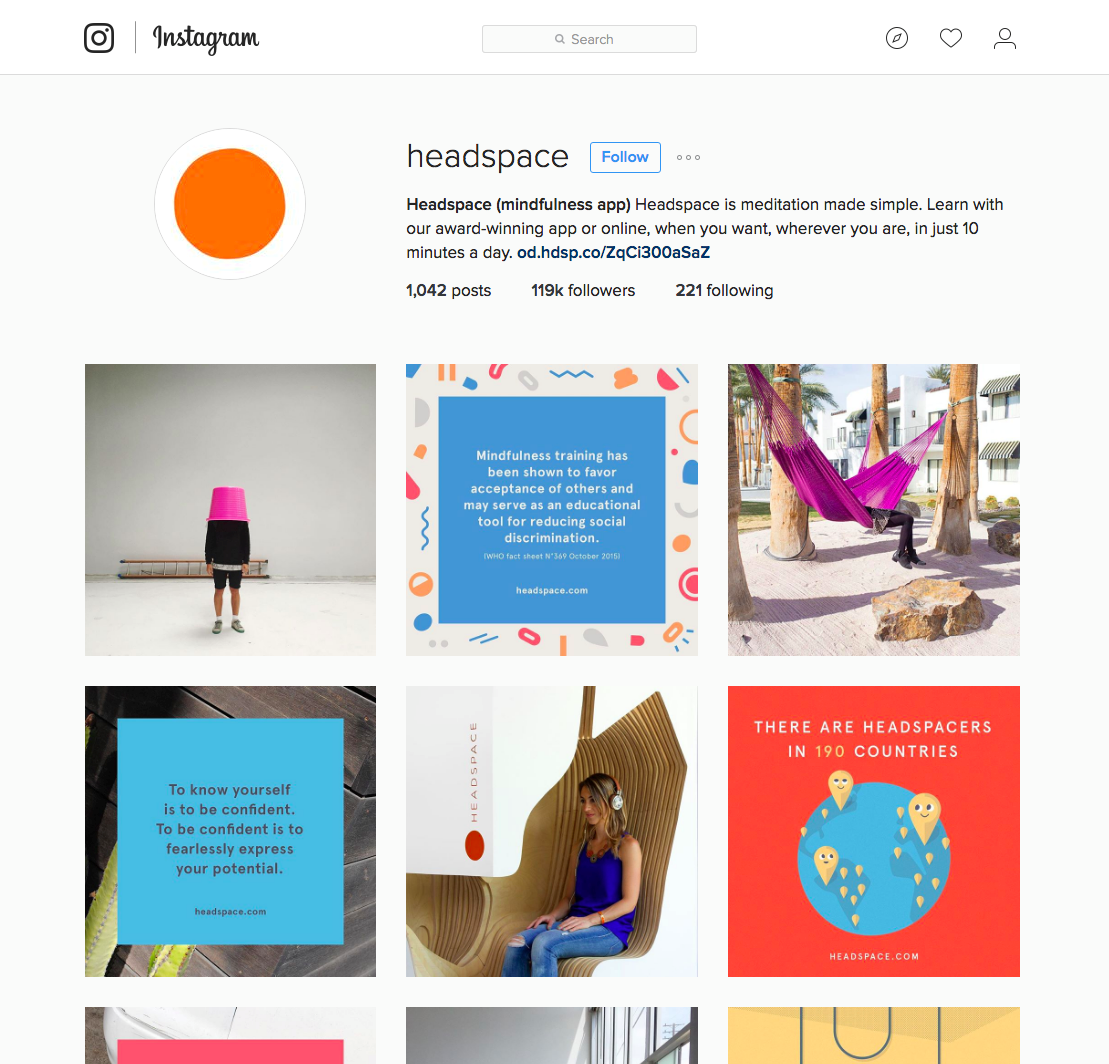 4. Collect email addresses using calls-to-action (CTAs)
Let your content drive leads by creating CTAs that entice users to consume more of your content.
Simply place a CTA that encourages users to download a longer-form piece of content in the sidebar or at the bottom of a blog post.
Wrike, a project management software, placed a button in the sidebar of a blog post on how the workplace is changing so that readers could access the results of a productivity survey.
We call this form of content — e-books, reports, data, and tools that require users to input a bit of contact information to access them — gated content.
Someone who's interested in how her experience at work is likely to change over time is probably also interested in how to improve her productivity at work.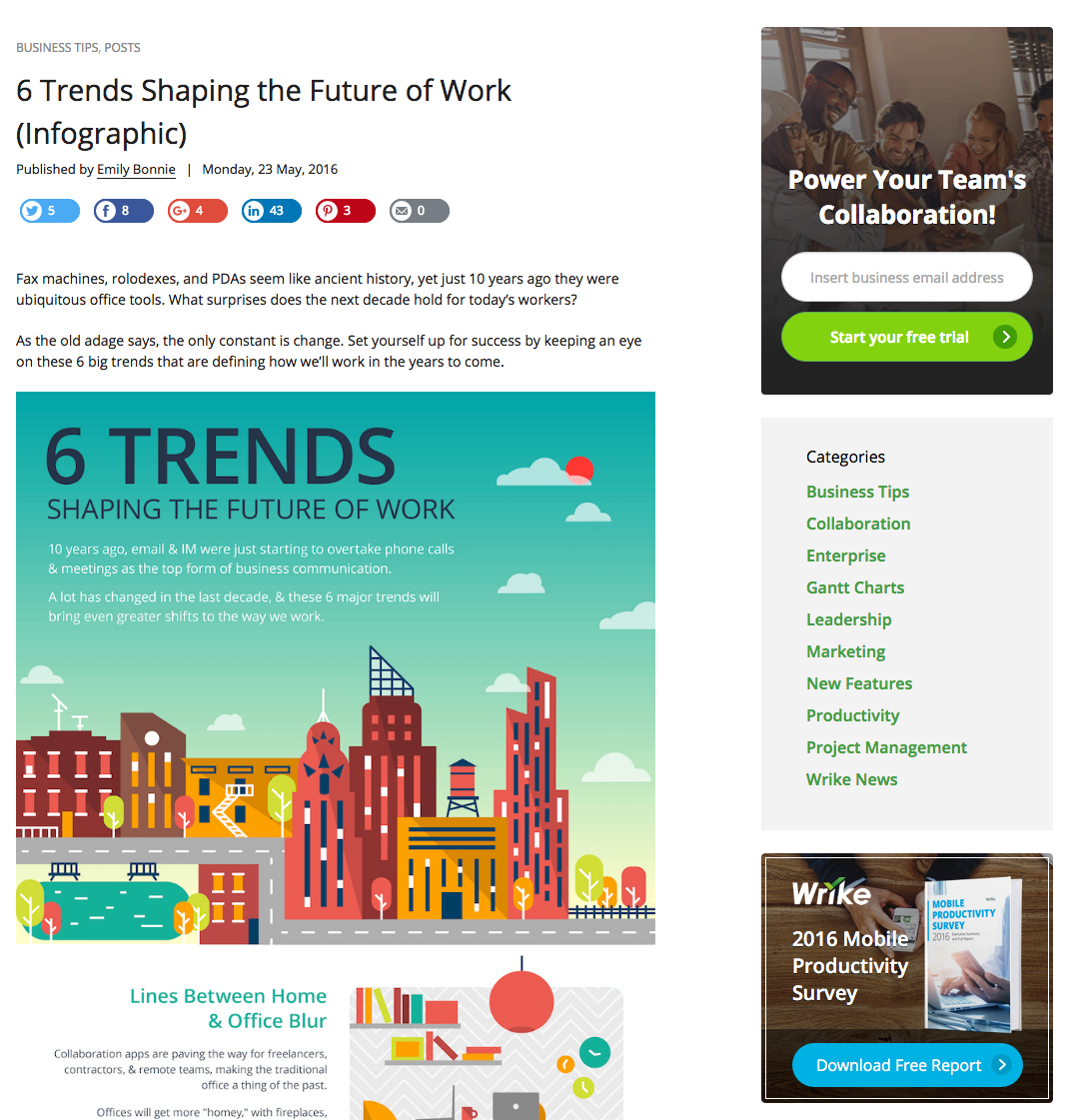 Wrike uses this CTA to entice already-interested visitors to their site to give the company their email addresses.
Since the report provides interesting and useful information, readers feel that they're getting something valuable in exchange for handing over their email addresses.
Retain your current users and turn them into ambassadors for your brand
Collect and implement user feedback
Without your users, you won't have much of an app.
Your users know better than anyone what additional features would be the most helpful and which parts of your app need work.
Make it easy for them to tell you what they like and what they don't.
There are several ways to collect feedback. While it would be ideal to have a full conversation with your heaviest users, that's often not possible.
Ensure that you're checking your reviews on every app store, searching for online app reviews, and giving people the chance to review from the app itself via push notifications.
2. Create ways for your users to get help when they have questions
Create a page on your website where you answer common questions in a simplified, step-by-step way and make this accessible within the app.
When people have questions, you want to be the resource that helps them resolve the issue, not someone else.
You can also set up a service email address where you respond to questions promptly — and if you find yourself answering the same questions over and over, add them to your FAQ page.
3. Keep up with your social media channels
Hopefully you've created social media accounts for your app at this point, but remember that social media is a powerful tool for not only expanding your user base, but also keeping your users engaged.
Some of the most successful apps have very active user communities who can share creative ways they're using the app and answer each other's questions.
A thorough marketing strategy involves hard work and continued upkeep, but it will pay off in your user base. Follow these steps, and you'll be on your way to marketing greatness!
Ready to take your app marketing to the next level? Put together a powerful marketing plan with our template below…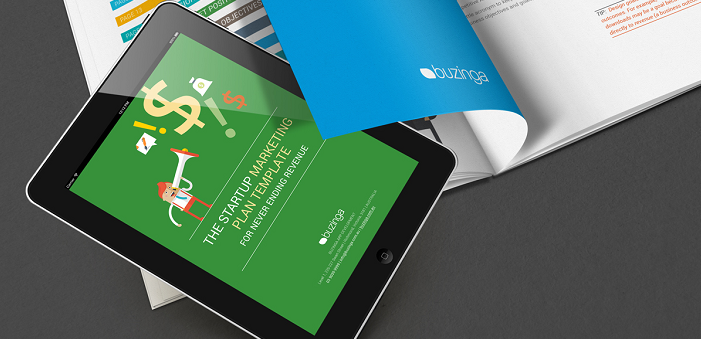 The following two tabs change content below.
Lucy Alexander
Lucy Alexander works on HubSpot's APAC marketing team out of the company's Sydney office. Her primary responsibilities include creating content for Asia-Pacific audiences and spreading the word about the inbound methodology in the region.
Latest posts by Lucy Alexander (see all)
https://www.buzinga.com.au/wp-content/uploads/2016/07/marketing-campaign-optimisation.png
359
900
Lucy Alexander
https://www.buzinga.com.au/wp-content/uploads/2017/06/Buzinga-Logo-Old-Small.png
Lucy Alexander
2016-07-01 02:12:46
2016-07-04 02:49:05
Marketing Campaign Optimisation For Apps: How to Build Your Customer Generation Engine