It was announced last week that Australian tech company Buzinga App Development was ranked 4th in Job Advisors Australia's Coolest Tech Companies for 2015!
We were placed right behind our favourite marketing tool Canva at #1, our favourite wine company Vinomofo at #2 and startup extraordinaires Envato at #3.
To be considered for this amazing title, companies had to simply submit an online application, build a public JobAdvisor profile to showcase company culture, and our employees had to contribute anonymous reviews to tell visitors what it's really like to work there.
The award celebrate companies who offer a game changing service, provide unprecedented benefits to employees, foster friendly working environments and are addressing workplace diversity and inclusion.
Luckily I bribed the staff to write great things about working at Buzinga so we had a good chance at winning…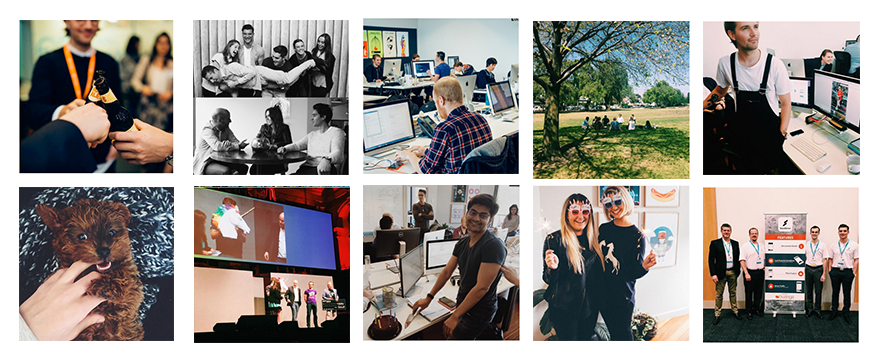 What the judges said:
Karen Lawson: "Global mission to change the world, culture reflects their passion for clients and their staff, a company with a sustainable spirit and a fun soul."
Last year we came in at 16th, as Graham put it "If we were 16th last year, and 4th this year, then is this proof that we are getting cooler?"
Well we've grown from around 10 to nearly 25 staff since then, and they are all awesome, so I'm going to agree with this statement.
Want to find out what our employees think about working at Buzinga?
Check out all of the non-bribed reviews here!
"I ACTUALLY LIKE MONDAYS NOW!"
"After working at the company for 2 years, Buzinga has leaped and bounded forwards in a great direction. Even with the increase in size from where we began, Buzinga stays true to it's values as a company and remains the best company that I've been lucky enough to be a part of."
"Buzinga is a mixed bag of employees with young and old alike, which makes a great working atmosphere to be in allowing for old and new experiences to come together."
"Never a dull moment…"
"Great team of people who are all really supportive of each other. We all work cohesively; so much so it's like a team sport, passing on the work and creating great apps."
"Buzinga is an awesome company to work for! Colleagues, work-life balance, fresh fruits all week long, parties, lunch on Friyays! But that's not all: interesting projects, nice office, great clients!"
"We all believe that no one deserves to wake up and dread coming to work each day."
The following two tabs change content below.
Jess McCorkill
Jess is Head of Culture and Client Experience at Buzinga. With an extensive background in advertising and customer service, Jess works closely with clients in the development phase to prepare them with the right strategies and partnerships for the launch of their product.
Latest posts by Jess McCorkill (see all)
https://www.buzinga.com.au/wp-content/uploads/2015/11/coolest-companies-in-tech.png
359
900
Jess McCorkill
https://www.buzinga.com.au/wp-content/uploads/2017/06/Buzinga-Logo-Old-Small.png
Jess McCorkill
2015-11-27 02:20:50
2017-05-25 20:29:18
Buzinga App Development Ranked Australia's 4th Coolest Tech Company