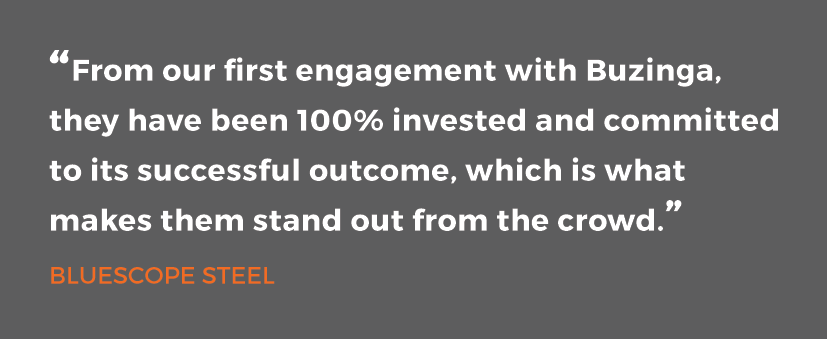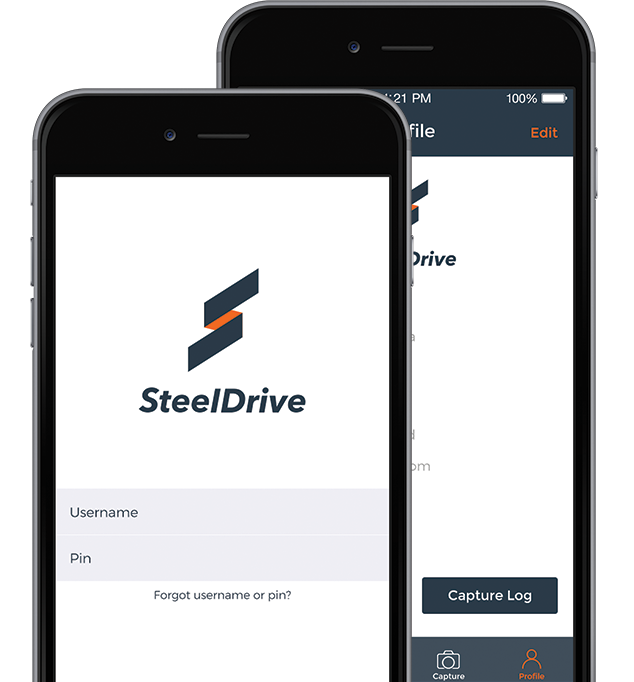 BlueScope and Buzinga launch "world-first" workplace safety app, Steel Drive; awarded by multiple industry networks.
BlueScope is a multi-billion dollar steel producer with operations in Australia, Asia, New Zealand, North America and the Pacific Islands.
BlueScope partnered with TOLL and K&S Transport, approached Buzinga in 2014 to improve health and safety methods for their employees, contractors and the public through the safety app, 'SteelDrive'.
The new digitally efficient method of documentation provides critical transparency in the unlikely case of an incident investigation, providing a point of reference for all stakeholders.
The app, launched in 2016, and now available to Android users, allows truck drivers to document the restraining and transportation of steel, through photo-taking, GPS-tracking, and cloud-based storage.
TRANSFORMING PUBLIC SAFETY
BlueScope's mobility journey in ANZ began under the new IT leadership of CIO, Larry Howard, in 2012.
Larry's focus on digital innovation became instrumental in the collaboration between BlueScope's IT and Logistics Safety teams. Together, they formulated the idea of creating a product that was accessible 24/7 on major smartphone devices, and would ensure the safety of their employees, BlueScope's partners and the products they transport.
Having never ventured into the mobile space before, Bluescope opted to explore mobile partnership opportunities.
"We needed a partner that understood our goals as well as how the industry worked. When first meeting the Buzinga team they were upfront that their success is solely dependent on our success. This couldn't be displayed any clearer than their actions and commitment to our project."  Ben Scollary, Innovation at Bluescope.

"During our time so far with Buzinga we've experienced a unique engagement and delivery process, the ability to understand our complexities and work with or challenge them for the greatest value, assistance in delivering a successful marketing strategy. Buzinga have built a rock solid reputation as a vendor with their brilliant robust processes and attention to detail."
THE FIRST APP TO BE PUBLISHED BY BLUESCOPE
SteelDrive is claimed to be the first of its kind worldwide. It incorporates steel restraint guidelines into a secure process to capture the visibility of the restraint, making it transparent to the parties involved in the shipment.
The app is the first ever to be published by BlueScope in public app stores, reflecting the safety mindset and culture at Bluescope.
Challenging the perception of rigid traditional industries, BlueScope have embraced digital technology as a way of enabling their business to become more adaptable to the changing engagement expectations, as set by both their employees and partners.
AWARD WINNING OUTCOME – SteelDrive was recognised at the Australian Steel Convention, ASI Health and Safety Excellence Awards and The Steel Transport Safety Network.
Following a successful release, SteelDrive has since been recognised at recent industry awards;
High Commendation at the ASI Health & Safety Excellence Awards in the Improvement Initiative Category.

High Commendation at the Steel Transport Safety Network, Logistics Safety & Environment Awards in the Safety Improvement Initiative.

Recognised at the Australian Steel Convention.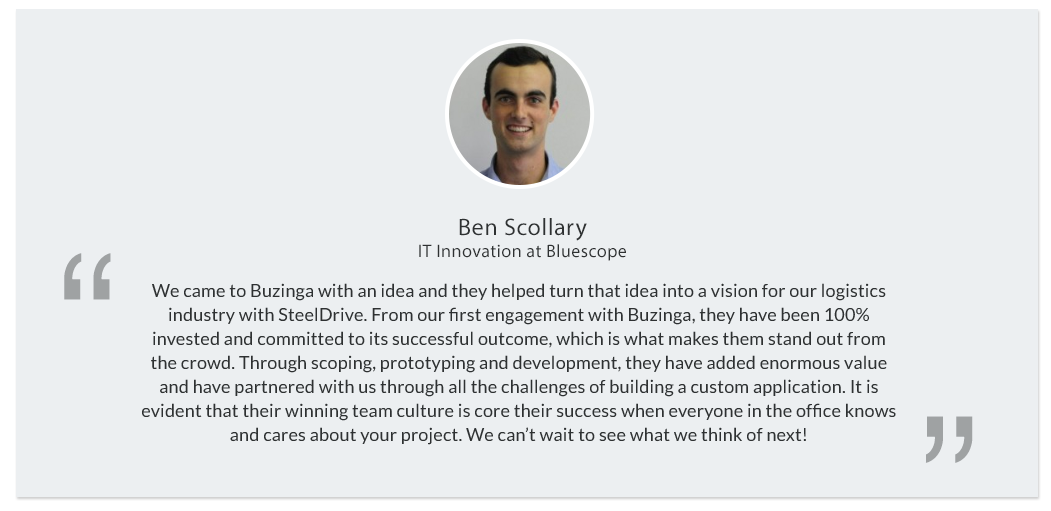 IT INNOVATION AT BLUESCOPE
"Through specification, prototyping and development, Buzinga have added enormous value and have partnered
with us through all the challenges of building a custom application. It is evident that their winning team and culture is
core to their success when everyone in the office knows and cares about your project.
We can't wait to see what they think of next."