We base our mobile app development process on the S.C.R.U.M. methodology. To give you a clear understanding of what the S.C.R.U.M. methodology is we have designed a diagram that explains it, step by step.
"The S.C.R.U.M. Methodology is an iterative process used by leading Software Developers all over the world."
The mobile app development process is an iterative process broken up into sprints. Looking at the diagram below – the process is repeated several times for each step of the development process. This is not a step-by-step instruction of what actions are taken to develop a mobile application, rather the method of how it is done.
The first step of the process is the S.C.R.U.M. Meeting where all who are involved in the project get together to specify the requirements. This includes the client as well.
The next step is process of producing the necessary output. Or in simple terms: The Daily Work. The product starts coming together and the team meets up to review the sprint followed by a detailed review. The team will discuss the outcome of the sprint and reflect.
A backlog of work is recorded and brought to another meeting with the client at which point the mobile app development process starts again. That's the end of the first sprint.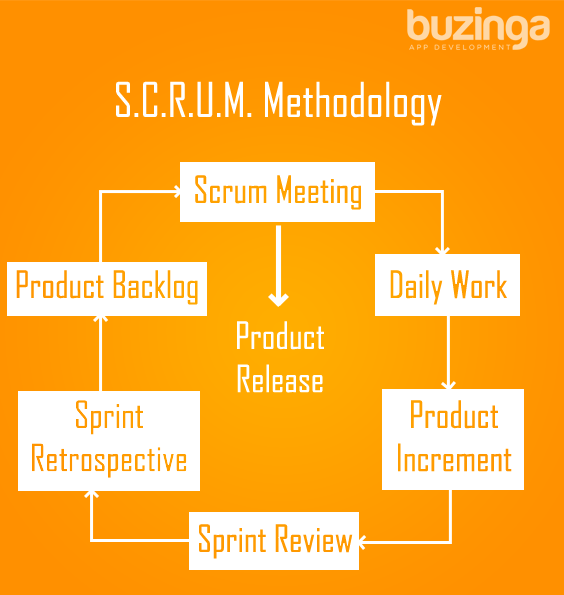 Our Mobile Application Development Process is slightly different
Over the years we have designed and used our own proprietary system, loosely based on the process above. We strengthened our process by adding in another step: Software Testing, right before the Spring Review.
This ensures that we understand any issues with the code (if any) before we have our Sprint Review. We repeat the step again right before Product Backlog.
Adding to that, when we get to the S.C.R.U.M. Meeting step we reverse the cycle and take our client on a tour through the steps moving backwards, highlighting any obstacles we came across and the improvements we made for the client.
The product is also not released to the media until it has been on the app store for one month, to ensure that the product is solid. It's another step in Software Testing that we strongly recommend for all our clients.
"The App is not released until it is perfect."
We take this same approach with every step along the development process, whether it's Feasibility Testing, Scope Writing, UI/UX, Graphic Design, Software Development or Testing. The same process applies.
The Buzinga Mobile Application Development process is an AGILE process. We are able to implement most new ideas to a concept that is currently in development without slowing down the development process or adding to the overall cost.
For more information on our process or how you can have your app developed by Buzinga Mobile App Development, simply click the graphic below.