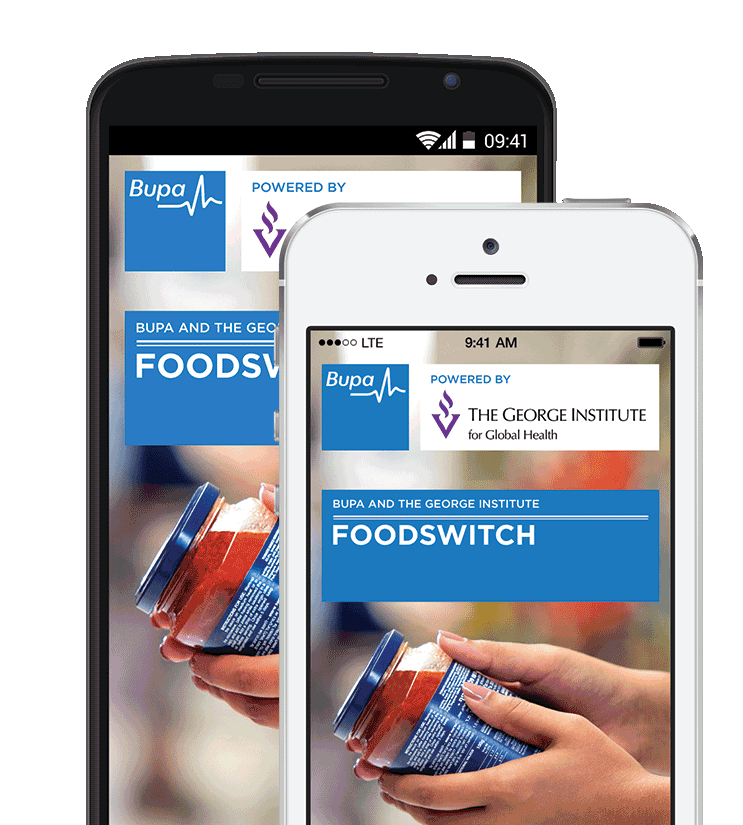 "As parents, we all want our kids to eat well. However, up until now, it hasn't been easy to get help in a simple way that lets you make informed food choices for your family. The best part of the FoodSwitch app is that it takes the guesswork out of shopping by arming Australians with options for healthier products to purchase."
– Nicole Livingstone, FoodSwitch ambassador, Olympian and mum
In February 2014, it was announced that Buzinga was the new technology partner of The George Institute (TGI).
Recognised as one of the world's top innovative initiatives, Foodswitch is a revolutionary mobile application, that is tackling the rising problem of global health and nutrition issues.
Pioneered by The George Institute for Global Health and Australia's-own Bupa health insurance, Foodswitch uses the best available science and technology to deliver immediate, easy-to-understand nutritional information so users can switch to healthier options.
FoodSwitch uses an innovative crowdsourcing system to gather detailed food product data worldwide, so when users scan products with the app, nutritional information is instantly available.
FoodSwitch was initially launched in Australia by the George Institute for Global Health in 2014, supported by Bupa Health Insurance.
The update in April of 2015 resulted in worldwide media attention, instantaneously climbing to #1 on the Australian Appstore for health and fitness.
The multi-platform FoodSwitch mobile app is now available in India, China, UK, South Africa.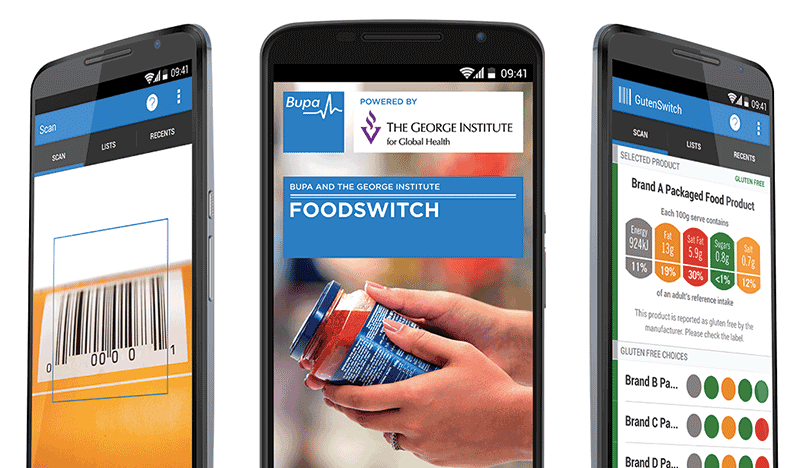 Software Development
Buzinga was involved in building a new global server solution and software / database architecture to facilitate the FoodSwitch global food database.
The system includes OCR (optical character recognition) technology, and will include self-learning AI designed for pattern detection and automatic data segmentation (data mining).
Web Development
In late 2014 Buzinga and TGI launched the FoodSwitch Stars website which allows manufacturers and users to check the Health Star Rating for food products.
In early 2015, the site was updated to be simply FoodSwitch, and now incorporates all the major functions of the app.
Big Data Analytics
In order to understand a data-base as large as this one, we are developing a sophisticated 3 dimensional data warehouse module for the TGI Food Database.
It will allow for detailed analysis of changes in product ingredient & nutrient makeup over time as well as reporting User Behaviour changes.
Crowdsourcing Techniques
The 'big data' hype has been around for a while but many entrepreneurs and organisations still don't know how to tap into the tremendous amount of useful data that's collected to build disruptive products.
With TGI, we improved their existing the Data Collector App (DCA) – an innovative crowd sourcing system for gathering detailed product data worldwide.
This is the primary way FoodSwitch has been able to collect its international database of barcoded food & beverage products.
Also, every-time a user scans a product using FoodSwitch that isn't in the database, users are prompted to simply upload a series of images showing the product's packaging which is then processed into the system.